After several unsuccessful attempts, former Libyan political dissident Samir Tabit has finally managed to get his name removed from a "blacklist" dating back to Gadhafi's rule.
"I travel to Tunisia for working reasons very often, but every time I got to the border I'd get an 'immediate arrest' order in the computer system. I've spent a thousand hours explaining to the border guards that that record is from Gadhafi's times, that I'm no criminal!" Tabit, today a tile trader, told DW.
From his residence in Gargaresh, a district in western Tripoli, the 45-year-old Tripolitanian labels as "only too obvious" the reasons behind the delay in removing his arrest warrant: "Many of the officials at the Ministry of Interior are tahalib (Arabic for "moss")," Tabit says. That is the term used for followers of Libya's former ruler in reference to his "Green Book" as well as to the color of the country's flag during his four decades in power.
Gadhafi was toppled and killed more than three years ago, but Libya remains in a state of political turmoil that has pushed the country into a civil war. There are two governments and two separate parliaments - one based in Tripoli and the other in Tobruk, 1,000 kilometers (620 miles) east of the capital. The latter received international recognition, despite June elections at which 80 percent of the population abstained from voting.
The political strife has resulted in Libya's several militias forming two paramilitary alliances: Libya Dawn, led by the Misrata Brigades, who control Tripoli, and Operation Dignity, commanded by Khalifa Haftar, a Tobruk-based former army general.
The self-described "liberal" side in Tobruk has the support of Saudi Arabia, United Arab Emirates, Egypt and France. It also reportedly has the greatest amount of "moss" as it encompasses, among others, the Warfala, Warshafana, Gaddafa and Awad Suleyman tribes, all of which remained loyal to Gadhafi during the 2011 uprising.
'Gadhafists' versus 'Islamists'
But those who gather for a protest organized by Libya Dawn every Friday in Tripoli's martyrs' square see it differently.
"We are the guardians of the revolution. We're only asking for respect, and we won't accept any international interference from France, Saudi Arabia or any other neighboring country," blurts out a mullah from a stage erected in the main square of Libya's capital. The cleric makes no mention of other international players like Turkey or Qatar, both key allies of the executive in Tripoli.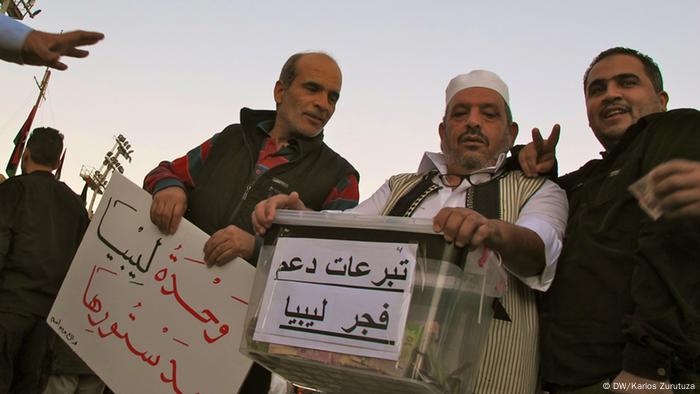 Libya Dawn collects donations for recent war victims
"God is great," a devoted group of around 200 chants three times in reply.
"Is that what the West wants for the Libyans today? A country ruled by the Gadhafists and the apostates? Is that what our martyrs shed their blood for?" continues the mullah, flanked by caricatures of General Haftar and Bernardino Leon, the UN envoy for Libya.
"Leon, you're not welcome in Libya," is written on a banner displayed in the area reserved for the women, to the right of the stage.
The Spanish diplomat started talks to end the conflict in September, but both sides have ignored calls for a ceasefire. The government in Tripoli has repeatedly accused the UN envoy of being "partial" when dealing with Libya's political rivals.
"Why do you, Western journalists, insist on giving such a distorted view of the conflict?" Ali Abud, one of the protesters asked this DW reporter. "We are Libyans and Islam is like our skin. How could we possibly tear our own skin off?"
Militia commanders and religious leaders chain up on stage. Meanwhile, Tarik Hazairi, a volunteer, circulates among the protesters with a box to collect money and goods for the most recent war victims. So far, he says, he has gathered "20,500 Libyan dinars (around 11,000 euros), 113 Kalashnikov bullets, 38 phone cards, 18 sleeping bags and two first-aid kits."
The meeting ends with the last call to prayer at sunset. That's when protesters turn their back to the stage and toward Mecca to pray together.
Minorities in the middle
While Tobruk and Tripoli accuse each other of being either "Gadhafists" or "Islamists," other key figures look at the conflict from a different perspective.
"This is a war between Arab nationalists and Arab Islamists, none of whom will ever recognize our rights," Fathi Ben Khalifa, an executive member of the World Amazigh Congress, told DW. Ben Khalifa, who was president of the umbrella organization for the Berbers in North Africa between 2011 and 2013, fears that the growing political breach between Tripoli and Tobruk could even lead to "a genocide campaign" against the Libyan Amazigh.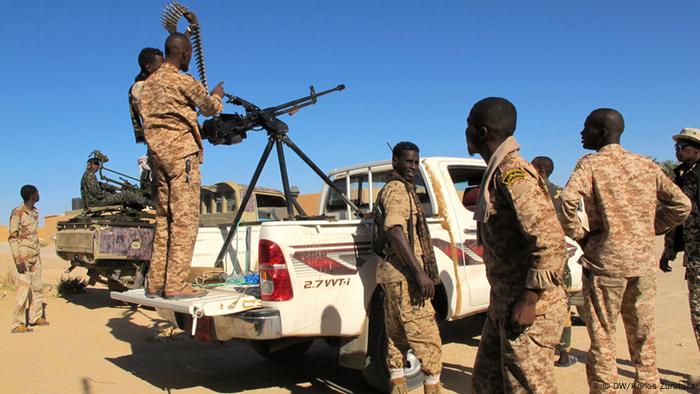 The Tebu (here) and Touraeg have taken sides and are fighting each other
Libya's non-Arabs are certainly struggling to cope with a complex scenario. After centuries of peaceful coexistence in the country's inhospitable south, the Tebu and the Touareg are siding with Tobruk and Tripoli respectively and, accordingly, fighting each other.
As such, Younes al Tabaui, culture minister in the government in Tripoli, is a rarity among his fellow Libyan Tebu. From his desk in a government building south of the city, al Tabaui admits the Tebu-Touareg war was completely unexpected, while he insists the conflict in Libya is "purely political."
"Both local and foreign powers are fuelling this war to divide the Libyans," he told DW. He said that he too faces difficulties meeting up with his wife and children in the country's Tobruk-controlled east.
"This is a dirty war where every single side is playing tricks," the minister added.