A sweater for 20 euros, a pair of jeans for 30 ($40) - most people on a shopping spree should be well aware that their transactions happen at the expense of Asian textile workers. Take Sumangali in India's southern State of Tamil Nadu. Sumangali is Tamil for "the bride that brings wealth".
Parents send their daughters off for a so-called "training" period in textile factories or spinning works where they are supposed to earn money for their dowry. The "training period" can take up to three or four year.The girls are exploited: the salary for a working day of 12 hours is as little as 60 eurocents ($0.80). They are often promised a bonus payment of 500 euros ($660) - which is only paid if the girls manage to finish their contract - when the three to four years are over. Usually this bonus falls to the family of the groom. The girls are not allowed to leave the area and have to live in crowded shacks. Many are beaten or sexually harassed.

The Children's rights organisation Terre des Hommes estimates that some 120,000 girls are affected and reports that attempts to escape happen frequently.
German fashion stores involved

Many German-based fashion chain stores are among the customers of textile factories in Tamil Nadu, one of the biggest textile facilities in the world. It remains unclear though whether or not companies source from Sumangali businesses. There is no legal obligation for companies to disclose.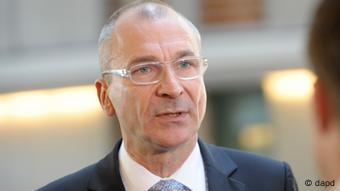 Beck demands more transparency in the textile sector
That's what needs to change, says Volker Beck, Human Rights Spokesman of the Green opposition party. "That's one main area of concern for us that it's not made transparent whether a customer buys a product of slave labor or whether he buys products that have coincidentally been made in the same region but under normal working conditions," he told DW.

Beck's Green Party has raised this issue in the German Parliament. A main demand is a legal framework that makes it mandatory for German companies to disclose where they source their products.
More transparency is indeed important, says Antje Schneeweiß of the non-profit organization Südwind who just published a study on labor law violations in the Indonesian textile industry. She says customers need to shop in a responsible manner, but investors can play a big role, too. By investing only in socially responsible companies, she says, investors can exert pressure.

"Investors who are interested in sustainability clearly show by implementing such rating systems: We demand that Adidas, Zara, Inditex install a system of responsibility," Schneeweiß said.
Supply chain that's hard to track

Some manufacturers do indeed publish the names of their suppliers. But according to Schneeweiß they usually just list the main supplier who, in turn, often subcontract the work out to other suppliers.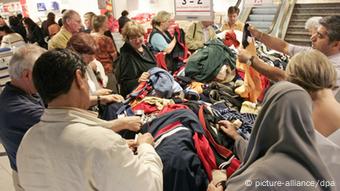 It's hard to say where exactly clothes were produced
Fashion chain H&M, one of many companies that buy products from South India, points to those long commodity chains. "Sumangali is common in spinning works, partly in areas where H&M has no direct influence on," the company said in a written statement in response to an interview demand by DW. "This is where an industry-wide approach needs to be taken that encompasses other companies and government representatives."

Beck of the Green Party says it's up to the government to change the dire situation. "If something is produced under terms of slave labor or inhuman situations, then you have to be able to restrict imports."

The German government has brushed off such calls and instead says the European Union should impose an import ban.