French security forces began the evacuation of the largest migrant camp in Paris on Wednesday morning, where up to 1,700 people, mostly from Africa, were living in makeshift conditions.
Riot police arrived at dawn to oversee the removal of the migrants, who were taken by bus to temporary accommodation centers elsewhere in the Paris region.
The clearance was ordered last week by the French government.
Interior Minister Gerard Collomb said in a statement that authorities would carry out identity checks on the migrants at more than 20 sites.
The "Millenaire" or Millennium camp ran along the Canal Saint-Martin, close to the Porte de la Villette metro station in the northeast of the French capital.
It housed mainly Sudanese, Somali and Eritrean migrants.
Read more: Deadly fire breaks out at migrant workers' hostel in France
More camps to be cleared
Officials said two similar camp sites, along the Canal St Martin and the Porte de la Chapelle, which together house some 1,200 migrants will also be cleared shortly.
Paris has seen dozens of migrant camps surface over the past three years in the wake of the 2015/6 European migrant crisis, which saw 1.5 million people cross the Mediterranean escaping war and poverty in the Middle East and Africa.
Read more: New French immigration bill provokes backlash
An uptick in new arrivals was also noticed following the clearance of a huge migrant camp in the northern French city of Calais in October 2016, which at its peak housed some 10,000 people, according to aid groups.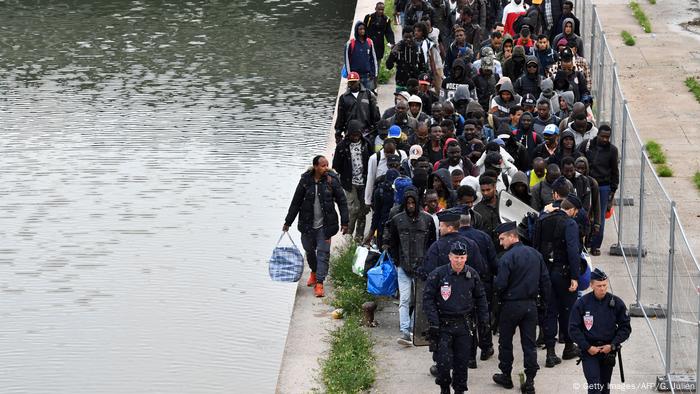 Some 1,700 migrants were cleared from the city's largest camp; several other camps will be targeted in the coming days
Wednesday's clearance was the 35th such evacuation in Paris over the past three years, but new camps have kept on springing up shortly afterwards.
French President Emmanuel Macron's government has said it wants to be both firm and fair on immigration, but it has taken a tougher stance lately, with parliament approving a bill that tightens asylum rules.
mm/rt (AFP, AP, Reuters)
Each evening at 1830 UTC, DW's editors send out a selection of the day's hard news and quality feature journalism. You can sign up to receive it directly here.