In Eastern Paraguay, a sea of soy stretches as far as the eye can see, interspersed only by the occasional road or patch of maize. The oft-dubbed "green gold" covers land that until the 1960s was heavily forested.

Despite being a small, landlocked country in South America, Paraguay has grown into the world's fourth largest exporter of soy, with the crop covering 80 percent of its agricultural land. The result is rampant deforestation and intensive land use, prompting environmentalists to continue pushing for the crop to be produced in a more ecologically and socially sustainable manner.

"We're looking to bridge the gap between small farmers feeling the effects of mass soy production, and large producers wanting to grow their profits," says Sumaia Cruzans, communications coordinator at the World Wildlife Fund (WWF) in Asunción, Paraguay's capital.

Does certification help?

Through the Round Table on Responsible Soy (RTRS) initiative, kick-started in 2006 by the World Wildlife Fund, soy producers agree to adhere to standards such as avoiding cultivation in areas deemed to have a high conservation value, and maintaining or strengthening the supply or local ground and surface water.

Paraguay, whose three million hectares of soybean has expanded to nearly three times the yield of 1998, is one of four countries taking part. There are two companies in Paraguay with RTRS certification, comprising a total of 20,000 protected acres, according to the WWF.

A bulk of the soy is shipped raw to the European Union, its second largest importer, mostly to plump up pigs and cattle, and contribute to the growing biofuels industry. Europe uses 34 million tons of soy a year, Cruzans points out, and the WWF is working with large industries to make production as sustainable as possible.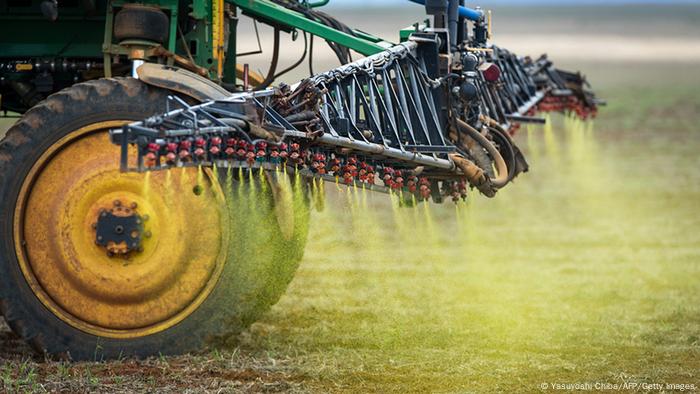 Soy farming is hugely widespread in Paraguay
But critics ask just how much of an impact the roundtable, which hosted its annual conference earlier in May in Brazil, can have? Is it merely greenwashing, a money-making scheme to lure eco-conscious customers, or does the eight-year-old program hold actual merit?

"There is value in the RTRS Standard, but it could still be so much better," says Jochen Koester, a consultant to the European Commission and major retailers, who was part of the original RTRS working group. "The RTRS is a money saver for companies that want to be perceived as going green."

Large companies foot down 2,500 euros ($3,473) a year for corporate membership in the sustainable soy program, whether or not they meet its criteria, says Koester. Only companies carrying a label through the program have to undergo an audit, which occurs on-site once a year.

The network should also have stricter environmental policies in place, says Koester. The current standard allows for the clearance of native habitat as long as it's not an indigenous forest, and has been zoned for local authorities for commercial expansion.

Sustainability and GMOs

Critics of the initiative also point out that it allows for the use of genetically modified soy. One of the members is Monsanto, whose "Round-Up Ready Soybean" comprises 95 percent of Paraguay's production.

Soy is grown almost exclusively on plantations in Paraguay, according to Oxfam International. The Monsanto soybeans have been genetically modified to tolerate glyphosate, a herbicide condemned by Paraguayan and International NGOs and farmer organizations for its harsh health and environmental impacts.

"If you're in a community and have just 10 or 20 hectares, and you're surrounded by soya fields, it really becomes almost impossible to farm because they soy farms go around several times spraying Round-Up," says Nina Holland of Corporate Europe Observatory, a Brussels corporate lobbyism watchdog.

Yet GMOs are the only way to meet increasing demands, says Luis Cubillo, advisor to the Paraguayan Chamber of Vegetable Oils (CAPECO) and RTRS expert. "The world needs to produce millions of tons of soy to feed so many millions of people," he says, "and biotechnology is the best way to achieve it."

Soy monocultures expanding

Even plantations, which have eaten up small farms or indigenous communities, qualify for the label, pointed out Holland in a report based on her visits to soy plantations owned by a large soy production company and one of RTRS's largest participants in Paraguay.

"The RTRS is not going to do anything about the problems that the expansion of soy monoculture is causing," says Holland. "Small farm movements chose not to participate, and also hardly any NGOs."

And the scheme does not seem to fare too well on the business side as well. Only half of all soy certified under RTRS or ProTerra, the other sustainable soy certification scheme, has been purchased by European companies, states the WWF in a report released at the RTRS conference.

ProTerra, unlike its counterpart, does not use GMO soy, and also forbids community patterns of land use from being disrupted, even with compensation.

While soy monocultures threaten biodiversity, leading to deforestation and soil depletion, the social repercussions are no less serious. Industrial soy farming is pushing Paraguay's rural population off their land, according to BaseIS, an Asunción-based social research center. Around 9,000 families a year in the nation of fewer than seven million migrate from agricultural areas to cities due to the rapid expansion of the cash crop. Many small farmers, lacking alternative income, often sell their property rights to larger companies, according to a 2013 Oxfam report called "The Soy Mirage".

"The problems caused by soy monoculture are so huge," says Holland, "that just by sustainability criteria you're not going to solve any problems."