International NGO Oxfam attacked Greece's new asylum law on Thursday, saying it "exposes people to abuse and exploitation" and was a "blatant attack" on Europe's humanitarian commitment to protect refugees.
"The new Greek asylum system is designed to deport people rather than offer them safety and protection," warned Oxfam and the Green Council for Refugees (GCR) in their joint report.
Conservative Prime Minister Kyriakos Mitsotakis came to power a year ago with the goal of reducing the number of migrants and refugees arriving in Greece. The country has been one of the main gateways for asylum-seekers entering Europe and hosts tens of thousands of refugees and migrants from places like Afghanistan and Syria.
The new asylum law was put into place on January 1 2020 and was amended in May. Oxfam and the GCR pointed out that the coronavirus pandemic has "aggravated" the situation, where people living in cramped conditions in refugee camps are at high risk of infection.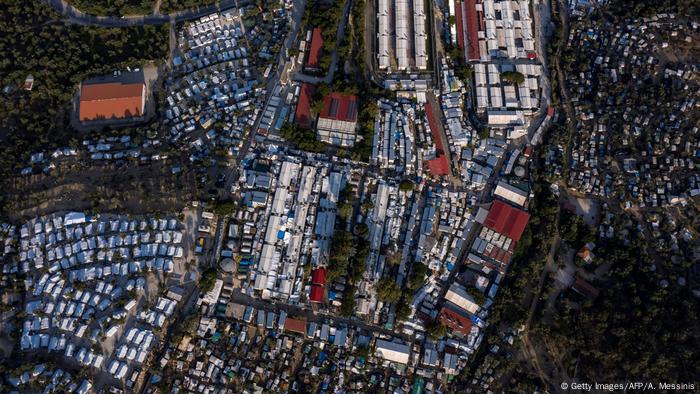 Moria's improvised tent camps seen from above
Blueprint for Europe?
The reforms aimed to speed up the asylum process so refugees could either be more easily deported. The new law also made it easier for Greece to reject asylum applications based on minor misdemeanors like failing to show up for interviews, according to the report. The Greek government has also hired hundreds of new border police officers and is building a fence along the border with Turkey.
Read more: Greece: Refugees attacked in the Aegean
"We are extremely worried that the EU will now use Greece's asylum system as a blueprint for Europe's upcoming asylum reform," Evelien van Roemburg of Oxfam said.
Roemburg also claims that conditions in refugee camps amount to "administrative detention" for refugees where "even families with children are regularly detained in inhumane conditions."
There are over 33,000 refugees in camps on Greek islands like Lesbos and Kos, in camps that were built with a capacity of 8,000.
ed/ng (AFP, dpa)