Salvadorians have begun voting to elect their new president in the sixth election since the end of the country's 1980-92 civil war.
Polling stations opened at 7:00 a.m. local time (1300 UTC) on Sunday, with local media reporting large queues from early morning.
The vote comes as the small impoverished Central American country battles to tackle gang violence, corruption and mass migration from the region to the United States.
About 5.3 million people are registered to cast ballots.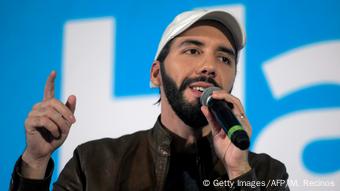 Nayib Bukele is tipped to win the presidency
Although the race is expected to be close, opinion polls suggest Nayib Bukele, a candidate for the right-wing Grand Alliance for National Unity (GANA), has the best chance of winning. A victory for the 37-year-old would be significant, given that he isn't from either of the two main parties that have dominated Salvadorian politics since 1989.
Carlos Calleja, 42, of the conservative nationalist Nationalist Republican Alliance (ARENA) is predicted to finish in second place, while Hugo Martinez, the candidate for the ruling leftist Farabundo Marti National Liberation Front (FMLN), is trailing in third position.
Read more: El Salvador prosecutors seek arrest of ex-President Mauricio Funes
If no candidate receives more than 50 percent of the vote, a second round runoff between the top two candidates will take place on March 10.

Plagued with poverty, violence
In the last few months of 2018, more than 3,000 Salvadorans joined caravans marching towards the US border. That wave of migration has mainly been driven by violence, abject poverty and unemployment.
El Salvador has one of the world's highest murder rates, with more than 3,300 gang-related killings reported last year. About 30 percent of the country's 6.6 million population live below the poverty line.
US President Donald Trump has repeatedly threatened to cut aid to the small country if it does not do more to deter north-bound migrants.

Bukele, a former mayor of the capital, San Salvador, pledged during his campaign to boost the economy, invest in education, curb the exodus of migrants and crack down on corruption. But if he becomes president, he may not have an easy time implementing changes because his GANA party is unlikely to have a majority in Congress.
mm,nm/jlw (Reuters, AFP)
DW editors send out a selection of the day's hard news and quality feature journalism. You can sign up to receive it here.