Speaking at a press conference in Brussels on Thursday, Prime Minister Orban (pictured above, left) told reporters that his government had taken all steps possible to comply with European Union regulations in dealing with an ongoing influx of migrants traveling through Hungary on the way to western Europe.
He also said that this meant that under the EU's so-called Dublin rules, Budapest was required to register all migrants who arrived in Hungary from outside of the bloc, before they were allowed to travel further within the border-free Schengen zone.
This appeared to be an indication that a few thousand would-be migrants stranded in the Hungarian capital would be allowed to board trains bound for Germany, at least for the time being.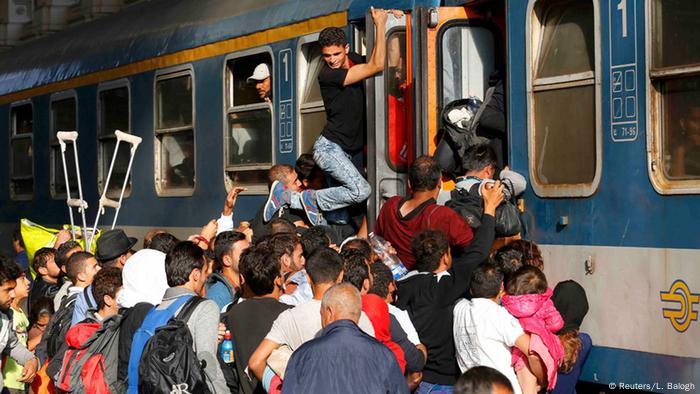 Orban also defended a decision to erect a fence along its southern border with Serbia in an effort to control the wave of migrants, many of whom have been traveling over land from conflict zones such as Syria or Iraq in an effort to reach western Europe. Orban said that as one of the countries that has an outer-Schengen border, it had a particular duty to maintain control over the frontier.
Following his talks with the president of the European Parliament, Martin Schulz (above, right), Orban also said the refugee crisis was not an EU problem, but rather "a German problem."
None of the migrants want to "stay in Hungary," Orban said. "All of them want to go to Germany."
For his part, Schulz called for a pan-European solution to the refugee crisis, saying this could also ease the pressure on the Hungarian authorities.
Keleti reopens, no international service
Not long before Orban and Schulz spoke to reporters, there was news out of the Hungarian capital thatpolice had withdrawn from Budapest's main Keleti train station, and thousands of migrants had pushed their way onto the platforms.
Some stormed trains that had been waiting at the station, hoping to continue their trip to the west, with Germany clearly their favored destination.
However, just minutes later it became clear that their hopes had been dashed - at least for the time being, after Hungary's national rail carrier announced that there would be no trains departing for Germany in the immediate future.
"In the interests of rail travel security the company has decide that until further notice, direct train services from Budapest to western Europe will not be in service," it said in a statement.
It wasn't long before there was more confusion, with hundreds of migrants boarding a train bound for the town of Sopron - on the Austrian border. The train only traveled around 40 kilometres (25 miles) to the west of Budapest, before it was stopped at the town of Bicske, where one of Hungary's four main refugee camps is located. In Biscske, police cleared around 900 migrants from the train.
Thursday's events came after more than 48 hours of a tense standoff between police and the migrants at the train station in Budapest, where the refugees at times shouted slogans like "Germany, Germany!"
Germany expects to receive around 800,000 asylum seekers by the end of 2015, according to estimates from the country's interior ministry.
pfd/kms (Reuters, AP, dpa, AFP)