Leipzig picked up their 20th win of the season after beating Hertha Berlin 4-1 in the Olympiastadion on Saturday evening. No newly promoted team, including the 1990-91 Kaiserslautern team that won the title, has ever recorded more.
Backed by Red Bull, Leipzig are no ordinary Bundesliga debutant. But their success is nonetheless impressive, and a spot in next season's Champions League group stage is much deserved.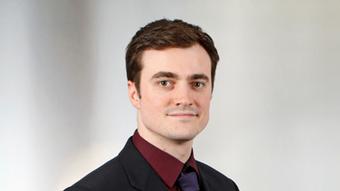 DW's Davis Van Opdorp thinks Leipzig's road to success will get a lot harder
They have the resources to remain a top Bundesliga team. Controversial or not, their feeder team in Austria, Red Bull Salzburg, does well to provide them with good young stars, and they have convinced many others outside the Red Bull system to help them with their cause. Sporting director Ralf Rangnik and head coach Ralph Hasenhüttl also have a strong track record of building good, young squads and getting the most out of them.
Rising to the top is one thing, but staying there is another. No longer the new kids on the block, Leipzig are going to have a tougher second year in the top flight.
No longer underdogs
It's hard to call Leipzig "underdogs" with a straight face. Their net spend in the transfer windows before and during the season was higher than any team in the division. But even given the hatred directed towards them from the "traditional" Bundesliga fans, they still had the luxury of pretty low expectations. Just finishing in the top half of the table would have been a success.
That allowed them to be much freer and courageous, which manifested in their quick and exciting style of play. The best example of that was Timo Werner, who joined from Stuttgart before the season. Most of the attacking burden was on his shoulders last season as Stuttgart struggled to stay up, but he has now had the season of his life while playing with Leipzig.
That pressure-less environment has now evaporated. They are now one of the teams to beat, and many of the clubs they leapfrogged to achieve Champions League qualification - Dortmund, Leverkusen, Schalke, Gladbach - will be going after them.
A much busier fixture list
No doubt Leipzig's season has been spectacular, but it could have been even better. They were right behind Bayern at the start of 2017, closer than any team in the previous five seasons. But their inconsistent form in the second half of the season - six of the seven teams that took points off Leipzig were in the bottom half of the table - ended their title challenge.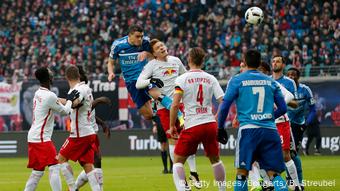 Leipzig defense struggled to contain HSV's Kyriakos Papadopoulos in a 3-0 loss in February
They play a very aggressive style under Hasenhüttl, but exhaustion should not have been much of an issue. Dynamo Dresden knocked them out of the German Cup in the first round, the only other competition in which they participated. At 35 games, Leipzig - along with Werder Bremen - will play fewer games than any other Bundesliga team when the season comes to a close.
That schedule will get much more packed next season with the Champions League. Leipzig went 13 games unbeaten to start their first Bundesliga season, and that will be very hard to replicate in their second while playing the Champions League group stage.
Without much of a history, this season will be one Leipzig will treasure. But as the expectations increase, it will be harder and harder for the club to live up to them.