Who's offering the most? Who's got yet another idea for tougher laws and the implementation of even more decisive measures? What caustic judgment is there still to make about the authorities' sometimes clumsy actions? Three questions, one answer: It's all already been said, all already been demanded.
German Interior Minister Thomas de Maiziere, a member of Chancellor Angela Merkel's conservative Christian Democrats (CDU), is calling for policing to be centralized and wants to abolish the individual states' domestic intelligence agencies. Sigmar Gabriel, economy minister and head of the CDU's junior coalition partners, the center-left Social Democrats (SPD), has said he is "in favor of zero tolerance" where violent Salafists are concerned.
Winfried Kretschmann. the state premier for Baden-Württemberg's Green party, deems North African states to be safe countries of origin for sending back refugees. The leader of the Left Party's parliamentary group, Sahra Wagenknecht, has said that Merkel bears some of the responsibility for the terrorist attack in Berlin, thereby putting herself on the same rhetorical level as the populist right-wing Alternative for Germany (AfD). And Christian Lindner, the leader of the business-friendly Free Democrats (FDP), who aren't currently represented in the Bundestag, has made generalized references to "governmental failure" concerning what were indeed serious mistakes in the case of the Berlin attacker Anis Amri.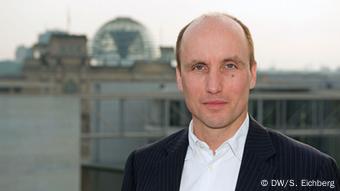 DW's Marcel Fürstenau
Pithy slogans and excessive demands
For anyone who hasn't yet realized: Germany is already in middle of the election campaign. Even though it's more than eight months until the new Bundestag is due to be voted in, politicians are terrified of falling behind. Pithy slogans and excessive demands are rife. Consequently, there's no hope of all the parties coming together to address national security with the seriousness it requires.
Unfortunately, Interior Minister de Maiziere, who is usually so level-headed, is also making unrealistic proposals. His idea is to extend the investigatory powers of the Federal Criminal Police Office (BKA) and the federal police to cover the entire country. This proposal will never work, for the simple reason that there clearly isn't the two-thirds majority among lawmakers necessary to pass the required alteration to the constitution.
Put the BKA in charge!
You only have to look at a map of Germany to realize that centralized police forces would be completely at a loss if required to guarantee nationwide security, for which they would need detailed knowledge of all regions and all social environments. It would be quite enough just to put the BKA in charge of the overall fight against terrorism, in a leadership role - just as Germany's domestic intelligence agency, the BfV, was given centralized responsibility for the supervision of informants after the discovery of the right-wing extremist National Socialist Underground (NSU) group.
This makes it clear who is responsible. It sees that, to date, people have preferred to delegate any time things got tricky. A structure like this would put an end to the making of excuses. The mistakes in the Amri case were made not because he wasn't known to be dangerous, but because the authorities failed to take action.
SPD leader Gabriel's trite sentence about violent Salafists ("Zero tolerance!") is a perfect example of how lacking in substance the debate about national security actually is. A potential challenger to Merkel in September's general election, he's practicing playing the strongman - but all he's doing is stating the obvious. It's always a bad idea to be lenient with violent people. It weakens citizens' sense of security, and their trust in the rule of law. Who those people are - Salafists, left- or right-wing extremists, anyone, in fact - is entirely irrelevant.
And the AfD is grateful for the campaign help…
That's why a sentence like this from the SPD leader is, above all, election bluster - although Gabriel's name can be substituted for politicians of every stripe, who want to and must be heard on the subject of national security. Because naturally - and rightly - people in Germany want to hear answers from them, to hear what ideas they have for the fight against terrorism that really can be implemented.
It would be nice if they would still deliver these ideas after the tumultuous start to the new year. However, the fear of the AfD is probably too great for that. According to recent polling, despite this competition between the other parties, the AfD is still gaining popularity among voters.
Have something to say? You can leave a comment below. The thread will stay open for 24 hours after publication.