Borussia Dortmund's fans on the Südtribüne always seem to strike the right tone, and the banner unfurled before Pierre-Emerick Aubameyang's final game for Dortmund on Saturday, which read "No player is bigger than our club", perfectly summed up the mood of antipathy towards the player.
Aubameyang's continuous angling for a move has grated on many at Dortmund for a long time. He has publicly flirted with Real Madrid and Paris Saint-Germain in the last couple of years, and after much kicking and screaming, his crass tactics have finally borne fruit.
Read more: Is Arsenal the right club for Aubameyang?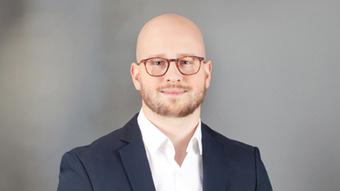 Michael Da Silva, DW Sports
Arsenal may not be the destination Aubameyang had in mind, but a basic salary of €205,000 euros ($255,000) a week and the opportunity to test himself in the Premier League should soften the blow of joining a club who sit sixth and whose next European game is in the Swedish town of Ostersunds.
Arsenal, who were London's top-earning club in 2016-17 with revenues of 397 million euros ($491 million) from the Premier League's enormous TV deal, did everything they could to shave something off the 70 million euro asking price. Their approach of deepening the wedge between Dortmund and their star striker eventually did the trick and Dortmund sanctioned the deal on Tuesday before it was confirmed on Wednesday. The German club secured a short term replacement in the shape of Chelsea's Michy Batshuayi.
'Rotten apple'
Aubameyang has undoubtedly given a lot to Dortmund in his four-and-a-half years at Signal Iduna Park. A return of 98 goals in 144 Bundesliga appearances is a world class strike rate and his goals have bailed Dortmund out time and time again, whether it be in the Bundesliga or Champions League. Aubameyang has shown himself capable of scoring against anyone and is rightly considered one of the finest strikers around.
But it wasn't always this way. Jürgen Klopp's Dortmund took a risk on him in 2013 as they sought an understudy for Robert Lewandowksi. Aubameyang had just enjoyed an impressive breakout season at St. Etienne following a string of unconvincing loan spells at Dijon, Lille and Monaco. This after failing to make the grade at AC Milan. Klopp and Thomas Tuchel shaped Aubameyang into the player he has become, which made his subsequent displays of indiscipline all the more difficult to stomach. And it's this lack of professionalism and loyalty that put Bayern Munich off signing him.
"The club management of Bayern would not put up with that," the champions' former sporting director Matthias Sammer said recently. In an interview with Eurosport, Sammer went on to describe Aubameyang and Ousmane Dembele, who forced through a move from Dortmund to Barcelona last summer in similar fashion, as "rotten apples".
Despite the unedifying nature of the transfer, the arrival of Aubameyang in north London is an exciting one on the pitch. A reunion with Henrikh Mkhitaryan evokes memories of the pairs' devastating final season together at Dortmund, when they notched up 59 goals and 31 assists between them. Arsene Wenger is pinning his hopes on this understanding being reignited at the Emirates Stadium, with the coach's own long-term future at Arsenal still uncertain.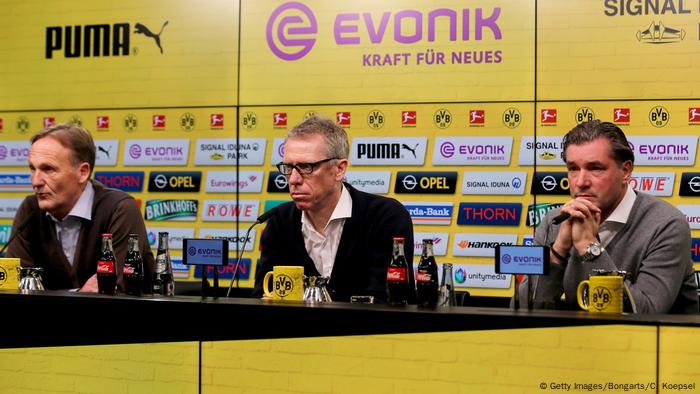 Dortmund's management face an uphill struggle to salvage something positive from a poor season.
Dortmund's troubles run deep
This has been a grim season for Dortmund. Having made solid strides under Tuchel, the Peter Bosz experiment proved a disaster and Peter Stöger has given youth a chance but so far struggled to galvanise the squad into delivering a dramatic change of fortunes.
But for all the playing and coaching talent that has walked out of the door in recent seasons, chief scout Sven Mislintat's decision to leave for Arsenal in November was perhaps the greatest kick in the teeth of all. Dortmund face a genuine struggle to secure a top-four finish in the Bundesliga for the first time in three years, but the silver lining for Dortmund has always been that, for all their difficulties in holding on to their best players, they possessed one of the best connected scouts in the world, and a man they could rely on to identify and sign the ideal replacement.
Mislintat was responsible for bringing Aubameyang, Dembele, Mats Hummels, Robert Lewandowski and Ilkay Gündogan, among others, to Dortmund and was part of Arsenal's delegation sent from London to strike a deal for Aubameyang. He was vital to the setup in Dortmund and Hans-Joachim Watzke's decision to allow him to leave was perhaps the biggest strategic error the Dortmund CEO has made.
There's never a good time to lose a player of Aubameyang's quality, but a January sale for a relatively modest €64 million points towards a crisis in management at the club, whose troubles appear to run deep. In the long run Dortmund will be better off without the Aubameyang Show following them around, but the loss of such a player at this stage of the season suggests things could get worse for Dortmund before they get better.