The argument doesn't only sound plausible, it's a formula that for once all political parties in Germany and other EU countries agree on when it comes to asylum policies: the goal is to improve the situation in the refugees' native countries so that people will no longer have a reason to want to leave. European politicians like to stress this long-term strategy, in particular with an eye on Africa.
Everyone wants to join the EU
Who would object to that? In reality, all it takes is a glance at the western Balkans to doubt the feasibility of that goal. Albania, Bosnia-Herzegovina, Kosovo, Macedonia, Montenegro and Serbia all want to join the EU. Brussels gave them all accession prospects - once, of course, they meet the political and economic criteria. Albania, Macedonia, Montenegro and Serbia are official candidates for accession, so they've already moved a step ahead on their way to the EU.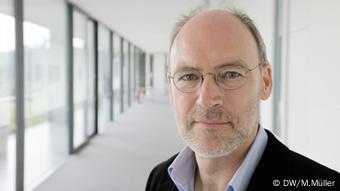 DW's Christoph Hasselbach
Bosnia-Herzegovina is a special case. The state with its ethnic groups that have been enemies since the Yugoslav War is practically a UN and EU protectorate.
Accordingly, there's a great deal of Western influence with the aim of stabilizing, reconciling, creating governmental structures and encouraging the economy.
The EU's EULEX mission is essential in helping build up an administration, police and justice system in Kosovo, a state whose status under international law remains unsettled.
20 years of rebuilding
In other words, for about 20 years - that is, since the end of the last Yugoslav War that spawned all of these states with the exception of Albania - the EU, with the help of incentives, and a lot of money and staff on site, has been trying to do just that: to create a situation which gives the people viable prospects in their own country.
Today, we have to conclude that 20 years of stabilizing policies in what is, according to EU standards, a manageable area in the heart of Europe have apparently failed.
If that weren't the case, thousands of people from these countries wouldn't seek their fortunes in Germany every month. But if the strategy failed in the western Balkans under comparatively favorable conditions, what can it possibly do in West or North Africa?!
Brussels no longer at the helm
All the same, it would be wrong to despair and give up the goal. In part the failure is due to the fact that the EU hasn't been tenacious enough in pursuing its goals.
Take, for instance, Serbia's minority policies. Most Serb asylum seekers in Germany are Roma. Even German Chancellor Angela Merkel admits that the Roma are greatly discriminated against in Serbia. On the other hand, the German government rates Serbia as a "safe country of origin" where by definition there is no persecution.
Protecting minorities is a key condition for EU accession. That means the EU actually has all the bargaining chips in Serbia's case, it just has to use them. In July, Serbia's Prime Minister Aleksandar Vucic told Merkel the refugees are a "joint problem" that begs European support - a hypocritical remark in view of the systematic discrimination of the Roma.
There should be a clear message to Belgrade: As long as you discriminate against your own minorities, you won't make any headway on the path to EU accession. The EU just has to bring itself to send that message.