What is being debated?
In Germany, it is the states that are responsible for housing refugees. They are responsible for the distribution of new arrivals to individual cities and municipalities, for which they then pay a lump sum for the feeding, housing, language education and medical treatment of asylum seekers.
In June, the federal agency responsible for registering asylum seekers processed 30,000 requests - more than twice as many as in the same month last year. States and municipalities feel overtaxed by this burden. Therefore, they are demanding more help from the federal government. Rather than one-time financial assistance, politicians such as Berlin Mayor Michael Müller and North-Rhine Westphalian Interior Secretary Ralf Jäger, both from the Social Democratic Party (SPD), think that the long-term financing of individual refugees is needed. The federal government, however, refuses to commit itself to such a plan.
How much money are we talking about?
The state governments of Germany estimate that it will cost them some five billion euros ($5.5 million) to house asylum seekers this year, about twice as much as was needed last year. Thus far, the federal government has promised the states one billion euros ($1.1 billion) in financial assistance. For this reason, some states are demanding that the federal government help out by paying a fee of 12,500 euros ($13,900) per asylum seeker.
Why isn't Germany better prepared?
Despite the ongoing wars in Syria, Iraq and Afghanistan, as well as the exodus from Albania and Kosovo, authorities have still not sufficiently prepared themselves for the high numbers of asylum seekers that are arriving here. The Federal Agency for Migration and Refugees estimates that this year some 450,000 asylum requests will be processed. That will be twice as many as last year. Federal Interior Minister Thomas de Maizière recently spoke of the looming "collapse of the asylum system." Currently, many municipalities are housing refugees in gymnasiums and tent camps.
Hamburg is one city where refugees are being housed in tents
Will soldiers soon have to help?
At the moment, some 3,500 refugees are housed in army barracks. And the Defense Department is looking into how they can offer "logistical support" to alleviate the problem. The state government of Saxony-Anhalt has suggested that the army could help by providing tents, medics and supply trains. The Federal Trade Union of the Police has spoken out against such mission plans for the German armed forces. "What we have is neither an emergency nor a civil defense situation, but rather a case of a reduction of resources for emergency and catastrophic situations," said Federal Vice-Chairman Jörg Radek.
Why is there so much talk about asylum seekers from the Balkans?
Almost every second asylum seeker is from the Balkans. Yet the Federal Agency for Migration and Refugees denies almost every application that they receive from people from Albania and Kosovo. This delays the processing of other applications according to Department President Manfred Schmidt.
For this reason, Bavarian premierHorst Seehofer, of the Christian Social Union (CSU), intends to use a special procedure to quickly deport asylum seekers from the Balkans. Beyond that, Seehofer is demanding that all Western Balkan states be declared "safe countries of origin." With that, people from those countries would not be eligible for asylum in Germany.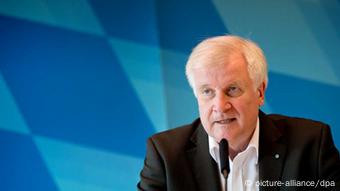 Bavarian premier Horst Seehofer has called for more help from the federal government
What awaits refugees when they arrive in Germany?
Following their arrival, all refugees are housed in camps. In some states, asylum seekers are later allowed to move into normal apartments, but in others, such as Bavaria, they are not.
Only 0.5 percent of all asylum requests processed in Germany within the first six months of this year were approved. Every third applicant received a so-called "Tolerance," and was therefore allowed to remain in Germany for the time being. Formerly, it was illegal for asylum seekers to work in Germany. Now, under some circumstances, it is possible for asylum seekers to find employment, though this is often very difficult.
What would alternatives look like?
The Greens and the SPD have long sought an immigration law that would allow more people with a good education, work experience and German language skills to legally enter Germany - regardless of political persecution in their countries of origin. Baden-Württemberg's premier Winfried Kretschmann (Green Party) proposed allowing people from Western Balkan states to immigrate to Germany if they could fill "shortage occupation" jobs, such as caregiving.
The Christian Democratic Union (CDU) is discussing the issue as well, though their Bavarian sister party the CSU is against any new immigration law. Chancellor Angela Merkel has yet to take a clear position on the topic.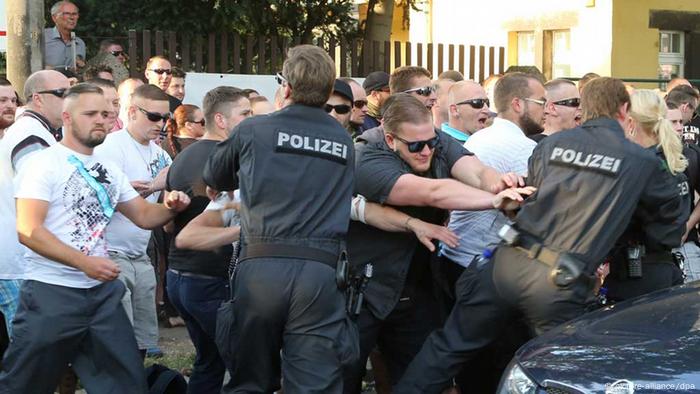 Scuffles broke out at this anti-refugee demonstration by a right-wing extremist party in Dresden
What do German citizens think?
Two out of three Germans think that the issue of "refugees and asylum" is the most pressing political issue facing the nation. That was evidenced in a recent ZDF (German Public Broadcasting) political opinion poll. According to a study by the Bertlesmann Foundation, a neoliberal non-profit organization, every third citizen is of the opinion that Germany could accept more asylum seekers. Seventy-three percent of those polled said that Germany's asylum policy needed to be changed.
And then there is the phenomenon of sheer hate, and violence directed at refugees: more than 200 refugee shelters have been the target of xenophobic attacks in Germany this year, several of the attacks resulted in shelters being set on fire.