There were still ten minutes plus stoppage time to play in the Veltins Arena on Saturday evening but the Schalke fans were already streaming towards the exits and out into the Gelsenkirchen rain.
A two-nil deficit isn't the end of the world; it's actually a notoriously dangerous scoreline for the team in front. The next goal can change the direction of the game in an instant and many a football supporter has reminisced about their teams' famous comebacks.
But not against Bayern Munich. Not in Germany. Not in the Bundesliga. From the moment Robert Lewandowski's penalty slammed into the back of Ralf Fährmann's net in the the 64th minute, this game was dead and buried.
Played four, won four and a goal difference of plus nine. Bayern look as good as certain to win a seventh Bundesliga title in seven years. And if you think that's depressing, take a look at their record in that period: Played 208, won 167, lost 16 with a goal difference of plus 416.
Lost sixteen. Goal difference: four hundred and sixteen. Something needs to be done.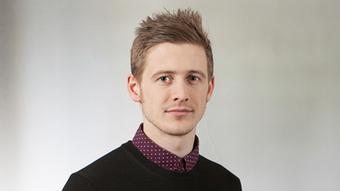 DW's Matt Ford thinks the Bundesliga needs a new format
It's not enough to point the finger at the rest of league. Yes, Borussia Dortmund, Schalke, Bayer Leverkusen, Borussia Mönchengladbach, Wolfsburg, Stuttgart and the rest are all responsible for their various periods of mismanagement.
But they could all be run with military precision and efficiency and it wouldn't make any difference now; the Bavarian horse hasn't just bolted, it's left the pasture and was last spotted in the main tent at Oktoberfest.
And before anyone suggests it, the answer isn't the abolition of the 50+1 rule either. We've been through this. You can watch the Premier League if Russian oligarchs and parasitic American businessmen are your thing.
And anyway, Bayern Munich, 75 percent owned by their own members, are the best example of how 50+1 can work, while maintaining affordable tickets and an authentic, lively, community-based fan culture.
No, the answer is not to look to England but Austria. Yes, Austria, where the Austrian Bundesliga has introduced a new format to make it more competitive. It's time to do that in Germany too.
Various options have been tabled down the years and all have their pros and cons. Split the league in two after 20 matchdays and halve the points totals, introduce a play-off round. Do anything, but just do something.
It can't make things any worse. And it's better than standing around in the rain in Gelsenkirchen when there's still ten minutes to play.