Once, hackers did manage to infiltrate Baladna FM's internal database. They completely destroyed the music and features reports that made up the archive.

"We had to start again from scratch," says Monis Bukhari, the station's 35-year-old founder.

He and his colleagues at the online radio broadcaster learned their lesson, and today, Baladna FM operates from a server that immediately mirrors finished content to a second hard drive. Now when there are hacking attacks - that is, every day - staff can resort to the automatic copy.
Bukhari lives with his wife and six-year-old daughter in Amman, Jordan. That's where Baladna FM has its headquarters, where Bukhari coordinates the work of around 100 volunteer reporters in Syria, Amman and Amsterdam. They upload their reports from their home bases and Bukhari makes them into a radio program. Due to frequent power and Internet blackouts, the reporters often drive up to 100 kilometers (62 miles) to upload their reports, he says.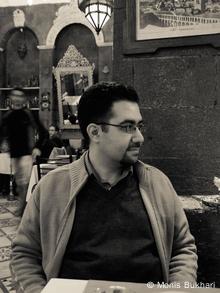 Bukhari sees Baladna FM as a contribution to Syria's future
Baladna, which means "our country," focuses on stories of daily life in a country slowly being pulverized in an interminable civil war. How do people in Damascus, Aleppo and Homs survive - that is the question Bukhari and his colleagues are intent on answering.

The situation in Syria remains devastating; according to the UN, almost seven million people - almost half of them children - depend on humanitarian aid. Power outages occur on a regular basis. "We don't have to tell people they are in a war, they know that," Bukhari says.
Spotlight on individual lives
Baladna FM reports on a wide array of topics, including gun crimes, how to handle emotional trauma and advice on the upbringing of children. Women's rights are a major issue: one Baladna FM team member produces a regular podcast about her experiences with discrimination at home in Syria. Her name is never mentioned, as she chose to remain anonymous.

"Women are the invisible part of our society," Bukhari says. "The established media do not mention them. We talk about their problems, desires and experiences."
"Baladna FM is not the station to listen to if you're looking for news," says Kai Schächtele. Instead, the radio project offers reporters' opinions and personal observations. In January, Schächtele, head of Germany's Association of Freelance Journalists, travelled to Amman to help create a Syrian journalist association. There he met Bukahri and was fascinated by the online project. "At the start of the uprising in Syria, Monis wanted to create something that would boost Syrians' hope and the will to survive."
Memories of life in peace
Reporting for Baladna FM is no easy task. Some volunteers have been arrested as a result of their commitment. One was killed, and Bukhari is convinced his work for Baladna FM was the reason.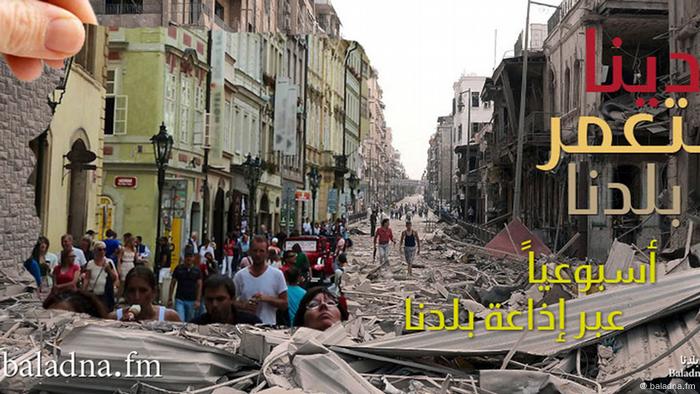 Baladna FM - 'Memories of a time without violence'
"That was a terrible day for all of us," he says. "But we believe in our project. We are among the few public voices in Syria that advocate an end to violence." The station aims to remind people that there is life without violence, he says.
Users can access the broadcaster's content on the website or using services such as Soundcloud or VosCast. But Syria does block the broadcasts, so users must resort to tricks to listen to Baladna FM. Up to 10,000 users, most of them between 20 and 35 years of age and based mainly in Syria and Saudi Arabia, share the content each day.
In the sights of pro-Assad hackers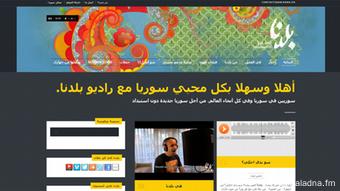 Baladna FM is banned in Syria
The project's success has attracted enemies. A shadowy group that supports President Bashar Assad's regime and calls itself the Syrian Electronic Army (SEA) appears to be behind the ongoing hacker attacks. Its goal: to silence supporters of the opposition on the Internet.

The OpenNet Initiative estimates that more than 10,000 hackers belong to the group. The International Herald Tribune reported in May that some of the SEA's attacks were traceable to servers in Russia. The hacker group has also apparently targeted western media, including the blog and Twitter accounts of the Financial Times.
The group is not new to Bukhari. In 2011, he hastily fled Syria because the regime believed he was a western spy. At the time, Bukhari worked as a press photographer for publications including the Los Angeles Times. After his escape, hackers paralyzed his personal website and his Facebook account.
Return to Syria is too dangerous to consider at the moment, though Bukhari would love to go home. In the meantime, he regards his work in Amman as a contribution to his country's future. "I hope my little daughter will one day live in a better Syria," he says.