Tourist hotspot and Germany's largest square: by day, Berlin's Alexanderplatz is filled with tourists, eager to get a closer look at Berlin's iconic TV tower, but by night, it's become rife with crime and violence.
Full of dark corners, "Alex" – as it's known locally – has never been without its problems, but in the last year the situation has escalated.
Mass brawls, thefts, assaults and drug consumption are just some types of crimes that have become commonplace. So far, more than 5,600 incidents have been reported to police this year. Each day, the square sees an average of two physical assaults and seven thefts.
Read more:Increased rates of murder and violence in Germany
Security a political priority
Although the overall number of reported crimes fell slightly by 12 incidents compared to the same time period last year, at the national level, the latest crime statistics show a rise in violent crimes.
All German political parties are calling for increased police presence on Germany's streets – providing at least one point for negotiators to agree on in ongoing coalition talks.
Read more: German 'Jamaica Coalition' hopefuls discuss defense, security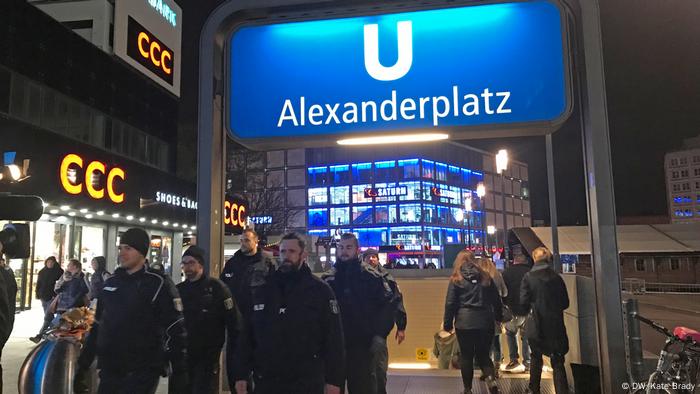 An increase in police presence is already noticeable on Alexanderplatz
Police in Berlin are responding by opening a new station directly on Alexanderplatz, to be operational by the end of the year. In an ideal world, there would be 200 officers on the job, says the director of Sector 32 of Berlin police department, René Behrendt. Instead, due to financial and personnel restraints, the number is restricted to just 30.
As night falls across Alexanderplatz, we join one team of five officers patrolling the square. The last shoppers disappear into the underground station with their purchases. Pop-up daytime events give way to police vans.
Read more: Germany proposes raft of measures targeting terrorism, crime
Within the first hour, the officers we're with stop a group of Afghan teenagers and ask them to provide identification. The four boys and two girls are instructed to face a shopfront, hands against the glass, as they're frisked for illegal substances.
According to Berlin police, much of the recent crime on Alexanderplatz has been committed by young offenders, including many refugees from Syria, Afghanistan, Iraq and Pakistan. Many of the them have no permanent residency status and with no work permit, they're left with few prospects.
Among the group of Afghan teens is 16-year-old Salttar. His identification is illegible and he is taken across the square to where another team of officers is waiting to check their records.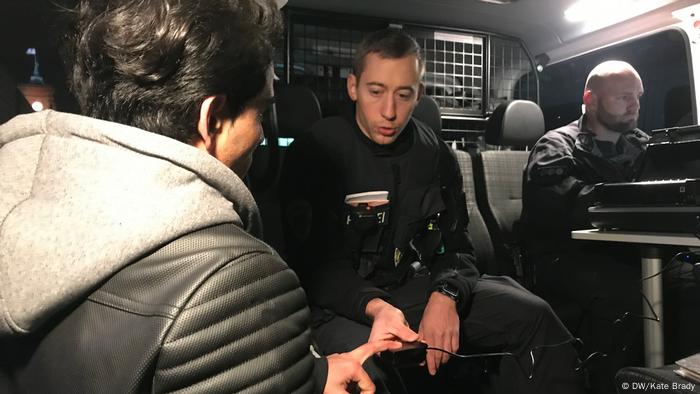 Afghan refugee Sattar, 16, said he thinks police checks are good, despite being pulled over by police
"I think the searches are good," Sattar tells DW. "I've seen people with knives before. But I know I've done nothing wrong. I rarely come to Alexanderplatz at night. I was just here with my friends. We live a bit further out of town and we spent the afternoon around here."
His fingerprints show no record of him on police files. He's free to go.
Accusations of racial profiling
As winter sets in, crime levels at Alexanderplatz are expected to increase, with potential criminals drawn to the warmth of the subway tunnels – and the police aren't far behind. The team moves from platform to platform, teeming with Saturday night party-goers.
Hanging around on one of the platforms is a group of six young men. Two of them are already familiar faces to the patrol team – they've previously been found to be carrying drugs. As the young men are searched on the platform, locals and tourists look on as they wait for their train.
"Since when are there so many police officers around here?" one passenger asks her friend. The increased presence clearly hasn't gone unnoticed, nor has the focus on people who look foreign.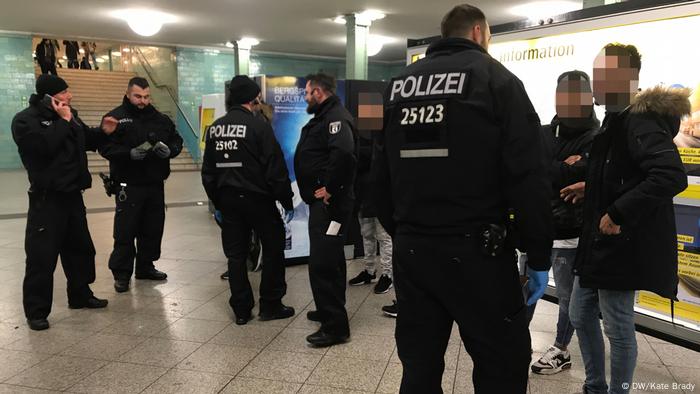 Searches for narcotics are routine during patrols of Alexanderplatz
One onlooker approaches the patrol team. "What is going on here?" he demands. "You're acting based on stereotypes."
Another local says, however, that she feels reassured by the increased police presence.
"It's definitely gotten worse around Alexanderplatz," she tells DW. "But I have no other way to get home. I feel more at ease with more police here. Especially as a woman."
While some accuse police of racial profiling, Police Commissioner Mattias Borchert says the officers are acting based on their experience when choosing who to search.
"It's often a group of youths or young adults," Borchert tells DW. "They can be aged anywhere between 14 and 25. Perhaps they're lingering on Alexanderplatz and acting suspiciously. There becomes a point where you just see it. There's no specific criteria that determine who we check."
'Bonsai' drug arrives on Berlin streets
The young men stopped on the subway platform are patted down by officers. This time, the only discovery is pepper spray, but searches for narcotics have become routine at Alexanderplatz, with alcohol and drugs playing an ever-growing role in violent crime.
Since the synthetic drug Bonsai appeared on the scene, Berlin police have also issued warnings that the synthetic cannabinoid can leave users comatose. In some corners of Alexanderplatz, dealers are selling the drug for as little as 5 euros.
At midnight, we part from the team. Patrols are over for tonight – a quiet one by recent standards. With additional support from social projects, Berlin police still hope to reverse the square's image as a crime hotspot. But in the meantime, there's no break from the daily cycle at Alexanderplatz. While daylight brings the tourists, nightfall attracts the crime.