Chancellor Angela Merkel was the guest of honor at the Baltic 1 wind park on Monday as she attended the official switch-on of the facility some 16 kilometers (10 miles) off the German coast.
The chancellor pushed the start button for the park's 21 wind generators that operators said would generate enough power for 50,000 homes.
Baltic 1, which is located off the Fischland-Darss-Zingst peninsula, is the first of two planned by the Karlsruhe-based utility firm Energie Baden-Württemberg (EnBW).
The second, consisting of 80 generators located off the German Baltic island of Rügen, is scheduled to be opened in 2013. It is hoped that facility will generate enough energy to serve the needs of 340,000 households. The firm has estimated the cost of its investment at 1.2 billion euros ($1.7 billion).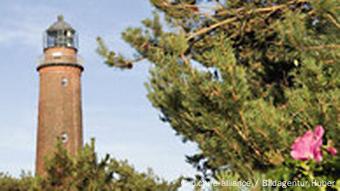 The wind park is located off the Fischland-Darss-Zingst peninsula
"The age of renewable energy will enter a new stage." said Jürgen Seidel, economics minister of Mecklenburg-Western Pomerania state, in anticipation of the switch-on.
First commercial project
Baltic 1 is the first such venture to take place on a commercial basis in Germany, although the offshore wind park Alpha Ventus - underwritten by the German government - did open last year in the North Sea.
The opening comes at a time of growing calls for Germany to invest in renewable sources of power such as wind. The country, which has a strong anti-nuclear movement, has seen concerns resurface following the Fukushima nuclear disaster in Japan.
Germany's Federal Maritime and Hydrographic Agency (BSH) has said that permission has been granted for 23 offshore wind parks in the North Sea, with a generating capacity of 7650 megawatts, and three in the Baltic with a capacity of 1040 megawatts.
In comparison, an average-sized nuclear power station would generate some 1000 megawatts.
The agency also revealed that it has received applications for 56 more wind parks in the North Sea and 15 more in the Baltic.
Author: Richard Connor, Darren Mara (AFP, dpa)
Editor: Nicole Goebel