Germany's federal and state governments agree that the country should transition from nuclear to renewable energy as soon as possible, according to Chancellor Angela Merkel.
"The overall direction has been agreed and I'm glad about that," Merkel said. "We all want to get out of nuclear power as soon as possible."
Merkel's center-right coalition government met with the premiers of Germany's 16 states Friday to discuss the country's future energy outlook in light of growing calls within civil society and politics for an end to nuclear power.
The emerging national consensus for a plan to quickly shutdown Germany's 17 nuclear power plants comes in the wake of the ongoing Fukushima nuclear crisis in disaster-struck Japan.
Timetable uncertain
Germany has already imposed a moratorium on its seven oldest nuclear power plants. According to Merkel, her cabinet will adopt a new law to set a timetable for the closure of all nuclear plants after the moratorium expires in early June.
Last year, Merkel's government had extended the timetable for the end of nuclear energy by over a decade. The extension came after the left-of-center government led by former Chancellor Gerhard Schröder originally set a deadline of 2022.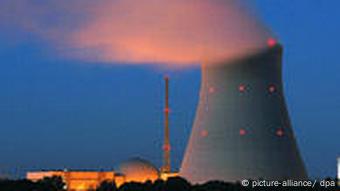 Seven of Germany's nuclear plants have been temporarily shutdown
Center-left Social Democrats have expressed conditional support for Merkel's energy policy based on several factors.
Erwin Sellering, Social Democrat premier of the East German state Mecklenburg-Westpommerania, called on Merkel to return to the original timetable set by the Schröder government.
"We've heard suggestions of 2035," said Sellering. "That's not acceptable. It must come back at least to the time we set before of 2022."
Sellering added that the current moratorium on the seven plants should lead to their permanent shutdown.
Jumpstarting renewables
The discussions zeroed in on how the transition from nuclear to renewable energy could be accelerated. Environment Minister Norbert Röttgen suggested that Berlin could do more to jumpstart green technology.
Röttgen said Germany's federal bank would soon offer 5 billion euro ($7.25 billion) in so-called soft loans to encourage investors to support the construction of wind turbines in the North Sea and Baltic Sea.
"It's difficult to get loans from normal banks on this," he said. Merkel's cabinet is hammering out the details on how to end nuclear energy
Cost debated

Meanwhile, the question of what it will cost Germany to transition from nuclear to renewable energy remains a subject of public debate.
The daily Süddeutsche Zeitung suggested that it would cost Germany 3 billion euro ($4.3 billion ) annually to make the energy leap.
However, liberal Economics Minister Rainer Brüderle predicted the cost would be between 1 and 2 billion euro ($1.4 to $3 billion) annually, depending on the pace set through the new law to be drafted in June.
Author: Spencer Kimball (dpa, Reuters)
Editor: Andreas Illmer