A report in newspapers of the Funke media group said on Monday that whereas over 3,300 asylum-seekers from the three Maghreb countries had been registered in Germany in January, this number had dropped to 480 by March.
The report, which based its figures on a report to the German parliament by the Federal Office for Migration and Refugees (BAMF), attributed the sharp fall in numbers to plans by Germany to have the three nations classified as "safe countries of origin." This would mean that would-be asylum-seekers could be deported more easily.
"Just the discussion about introducing the law in January 2016 led to a tangible reduction of new entries from February," the paper quoted BAMF as saying.
The chances that Algerians, Moroccans or Tunisians will receive asylum in Germany are practically non-existent anyway. Of the some 26,000 people from the region who came to Germany in 2015 hoping to be accepted, only 2.1 percent were given asylum - a figure that dropped to 0.7 percent in the first quarter of this year, the report said.
The German government began drafting the law defining Algeria, Morocco and Tunisia as "safe countries" in response to the sexual attacks on women in Cologne on New Year's Eve, in which mostly men from North Africa were implicated.
Staffing shortfall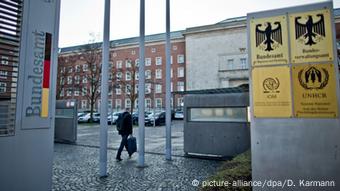 BAMF is still dealing with a backlog of asylum applications
Although the overall number of refugees coming to Germany has dropped as well, BAMF still lacks adequate personnel to process asylum applications, according to another report on Monday, this one in the German newspaper Die Welt.
The newspaper cited a confidential report by BAMF that said some 2,000 staff members were still needed across the German states. According to the report, BAMF aims to employ 7,300 people altogether across the country and at its headquarters in the southern German city of Nuremberg. So far, only 5,000 positions have been filled.
The authority has been receiving temporary help from personnel working with the German postal service, the Bundeswehr and the national employment agency.
More than 1 million refugees came to Germany in 2015.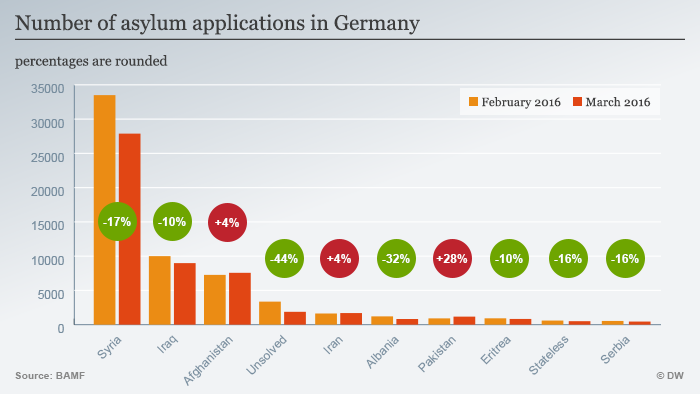 tj/kms (KNA, AFP, Reuters)