North Korea has offered to enter negotiations and halt nuclear and missile tests, South Korea's national security director said in Washington after meeting with US President Donald Trump at the White House on Thursday.
Chung Eui-yong provided Trump with a direct message from North Korean leader Kim Jong Un offering face-to-face talks with the US president.
Trump is willing to meet with Kim by May, Chung said.
Read more: Trump-Kim Jong Un meeting: How the world reacted
What was said
The stunning announcement comes after Chung led a five-person delegation to Pyongyang on Monday to meet with the North Korean leader, as the two sides seek to de-escalate tensions on the Korean peninsula.
"He (Kim) expressed his eagerness to meet President Trump as soon as possible," Chung said. "President Trump appreciated the briefing and said he would meet Kim Jong Un by May to achieve permanent denuclearization."
The White House confirmed Trump would meet with Kim at a time and place to be determined.
"We look forward to the denuclearization of North Korea. In the meantime, all sanctions and maximum pressure must remain," White House spokesperson Sarah Sanders said.
Praising Trump, Chung said: "I explained to President Trump that his leadership and his maximum pressure policy, together with international solidarity, brought us to this juncture. I expressed President Moon Jae-in's personal gratitude for President Trump's leadership."
"The Republic of Korea, the United States, and our partners stand together in insisting that we not repeat the mistakes of the past and that the pressure will continue until North Korea matches its words with concrete action."
Read more: Majority of South Koreans favor North Korea 'friendship'
How the announcement came about
Seoul had already publicized that North Korea offered talks with the United States on denuclearization and normalizing ties. The rival Koreas also agreed to hold a leadership summit in late April.
Washington has long demanded North Korea freeze nuclear and missile tests as a prerequisite to opening talks. North Korea's precondition, on the other hand, has been a halt to joint US-South Korean military exercises.
Read more: North Korea: From war to nuclear weapons
On Tuesday, South Korea announced that the Kim had stated there was "no reason" to hold on to nuclear weapons "if military threats towards the North are cleared and the security of its regime is guaranteed."
The bombshell diplomatic development comes after tensions on the Korean peninsula have fueled fears of war, and international sanctions over the North's nuclear and missile programs have put pressure on the regime.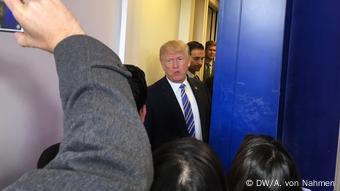 Trump had visited the White House press briefing room to say South Korea was set to make an announcement
What is the current situation?
The US and North Korea do not have diplomatic relations and are technically still at war because the 1950-53 Korean war ended with an armistice and not a peace treaty.
North Korea has sought to meet directly with the United States for nearly 20 years. Previous attempts at normalizing relations have failed, with the North reneging on commitments.
Read more: Is North Korea's red carpet a real sign of change or merely a ruse?
DW's Seoul correspondent Jason Strother said there was still plenty of reason to be cautious.
"We've been down this road many times before since the 1990s," he said. "Many deals have been made and many broken. This is a gamble by the Trump administration."
.
cw/rt (AFP, AP, Reuters)