German prosecutors are to take no further action against two rappers who penned the line "my muscles are more defined that an Auschwitz inmate's."
The state prosecutor in the western city of Dusseldorf determined that the controversial lyrics in the song "0815" that drew several complaints against hip-hop artists Kollegah and Farid Bang were not grounds for prosecution.
The prosecutor said in a statement on Saturday that while the lyrics are full of vulgar, misogynistic and dehumanizing fantasies about violence and sex, they are protected by the German constitution's rules regarding artistic freedom.
Read more: Why gangsta rap's aggro style appeals to the masses
The prosecutor said the offending reference to Auschwitz was "neither an endorsement nor a trivialization of the Nazi regime and its genocide."
"The comparison of a concentration camp inmate with their own body may be tasteless, but it does not represent denial of the Holocaust," the statement added.
Complaints to police
Several complaints had been filed against the duo, and an investigation was opened into alleged hate speech, misogyny, glorification of violence, and anti-Semitism.
Prosecutors examined the lyrics from the duo's latest album, "Jung, Brutal, Gutaussehend 3" ("Young, brutal, good-looking 3"), and earlier songs as part of their investigation.
In another song, the duo sing: "Commit another Holocaust, come with a Molotov cocktail."
Despite their reputation, in April, the pair were awarded one of Germany's most prestigious music industry prizes, at the Echo Music Awards, which only fueled public and music industry anger.
Read more: Echo awards: German anti-Semitism commissioner suggests Order of Merit for Campino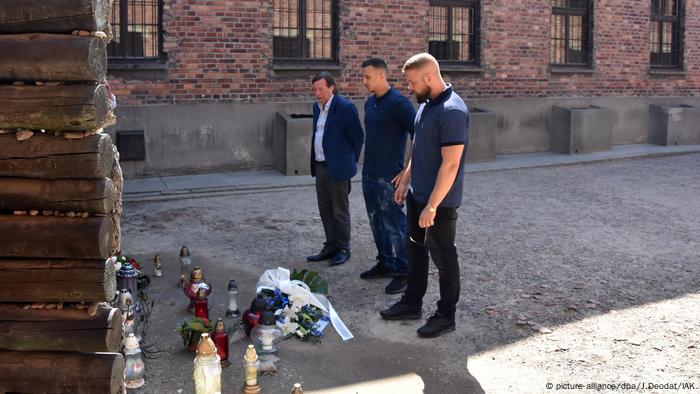 Music awards canceled
Many well-known artists returned their own awards in protest, leading organizers to abolish the awards altogether.
The BVMI German music industry association said the prize had been "badly damaged" by the anti-Semitism controversy and that only a "completely new beginning" would suffice.
When the controversy refused to go away, the duo were given a private tour of the Auschwitz-Birkenau Memorial in southern Poland.
The pair have publicly distanced themselves from "any and all forms of anti-Semitism and hate against minorities."
mm/rc (AFP, dpa)