Germany's next center-right government of Christian Democrats and Free Democrats (FDP) under Chancellor Angela Merkel now says that the timetable of abandoning nuclear power by 2020 cannot be kept.
Already ahead of Germany's general election at the end of September, the two parties had pledged to extend the life of some of the country's 17 nuclear power plants.
Economics Minister Karl-Theodor zu Guttenberg on Thursday confirmed that as coalition talks progress to form a new government, the two sides have agreed to accommodate that pledge and keep the nuclear plants running longer.
Energy experts and economists from both parties argue that in order to keep other pledges to cut Germany's carbon dioxide emissions by 40 percent by 2020 and for reasons of energy security, the country has no choice but to extend the life of its nuclear power stations.
Merkel herself has called nuclear power "an important bridge technology" on the way to cleaner and safer power for future generations.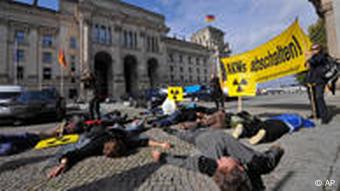 Most Germans would like to see nuclear plants shut down
Nuclear power unpopular but vital
Nuclear power is highly unpopular in Germany, with shipments of nuclear waste regularly triggering angry protests. The country has no permanent storage site for the waste.
But Germany is eager to reduce its dependence on volatile gas and oil imports from Russia or the Middle East and with only limited domestic resources, nuclear power is a strategically important energy source.
The new government plans, however, are vague, says FDP energy expert Gudrun Kopp, with details on which reactors will remain on line to be determined at a later date.
German media also report that Merkel wants to delay concrete decisions on the nuclear issue until after a key state election in North Rhine-Westphalia next May, which could lose her party a majority in the upper house of parliament.
Business and industry are very much in favor of the move, but environmentalists have vowed street protests, if Merkel and the FDP go ahead with their plans.


gb/dpa/AFP/Reuters
Editor: Andreas Illmer