"There is opposition, look! Only 24 out of 25 deputies have voted for me," Sergei Sobyanin said just after deputies of the local parliament in Siberia had endorsed his appointment as governor of the oil province Tyumen in 2000.
This week he faces a similar vote, this time about his candidacy for the post of Moscow mayor. Deputies of the Moscow City Council, mostly belonging to the ruling United Russia party, are expected to give their full support to Sobyanin. Indeed, the vote is generally seen as nothing more than a formality. The deputies had their first informal meetings with Sobyanin on Monday, and according to some media reports, they were "elated."
Tackling corruption and traffic jams
President Dmitry Medvedev presented Sobyanin on Friday as the man he would like to see as the future mayor of the Russian capital. First and foremost, he said, Sobyanin will have to tackle widespread corruption, as well as the endless traffic jams marring the city.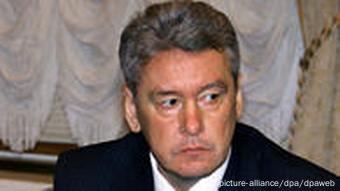 Sergei Sobyanin has been a steady ally of Putin in the past
According to Medvedev, "little had been done" in recent years to combat corruption, a clear reference to the previous mayor. Yuri Luzhkov was ousted last month - after 18 years - because the president "lost confidence" in him. The dismissal followed a smear campaign against Luzhkov on several TV channels, accusing him and his wife of widespread fraud and corruption.
Sobyanin's appointment is expected to have great political significance, with parliamentary and presidential elections scheduled for 2011 and 2012. The Moscow vote, as always, will be of critical importance.
The peak of a steady career
Sergei Sobyanin is a little known figure in Russia. He rarely gives interviews, although he has been one of Russia's most influential politicians for years. Since Medvedev came to power in 2008, he has served as deputy prime minister and chief of staff for Prime Minister Vladimir Putin. He headed Medvedev's election staff in 2008.
Before moving to Moscow, Sobyanin was governor of Tymen, an area twice the size of France, with a population of just 3.5 million. The province is home to Russia's biggest oil and gas deposits, which are concentrated in two autonomous regions in the north. Sobyanin was born in one of the two, Khanty-Mansiysk, in 1958. He started his working life as a plumber, then studied to be a lawyer and an engineer.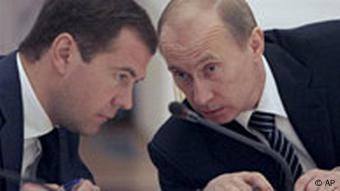 Former Mayor Luzhkov fell out with Medvedev and Putin
During the 1980s he was active in the Communist youth movement Komsomol. In the early 1990s he became mayor of the oil town of Kogalym, later chairman of the legislature of the Khanty-Mansiysk region. After that, with full support from the Kremlin, he was elected governor of Tyumen.
No tolerance for opposition
Under Sobyanin's rule, the province saw a construction boom, a legacy, which many saw as positive. But he also turned out to be a rather rigid governor, who did not tolerate any resistance and took harsh measures against what was left of a free press.
"A journalist cannot be independent," he once said.

Sobyanin also expressed sympathy for Soviet dictator Joseph Stalin, praising the "development" of the country under his rule.
Sobyanin has always been eager to express his loyalty to Vladimir Putin. He supported Putin's candidacy for the presidency in 2000 and was the first governor to become a member of the Kremlin party United Russia. In 2005 Putin brought him to Moscow to become his chief of staff - as the successor to Dmitry Medvedev, who had at the time become a deputy prime minister.
"They say that Russia's wealth grows from Siberia," Putin said at the time. "Well, Siberians know best how to do this."
Author: Geert Groot Koerkamp, Moscow
Editor: Nancy Isenson