In a narrow election, José Graziano da Silva was voted to head up the UN organization that aims to stamp out world hunger. The 61-year­-old economics professor has spent his career to date working in the area of food security, agriculture and agrarian development, often working side-by-side with unions.
Since 2006, Graziano da Silva has been a representative for Latin America and the Caribbean at the FAO. In the past he has also been the organization's acting Director General. He replaces outgoing three-term director Jacques Diouf of Senegal.
Graziano da Silva has pledged to repair divisions that are plaguing the FAO, which some fear could lead to paralysis within the organization. The narrow election highlighted the split between donor countries and developing countries at the Rome-based FAO.
Divided donor and developing countries
Speaking after the election, Graziano da Silva stressed his plans to bridge that divide, saying the divisions are "part of daily life in the FAO."
"There are differences that are not going to be swept away," he said. "I was living day by day with these. We have to work on a minimum consensus so this organization is not paralyzed by these divisions. I hope I can forge agreements to get a minimum consensus."
Still, the new director-general said the organization has recently undergone some reform and that it is "on the right path."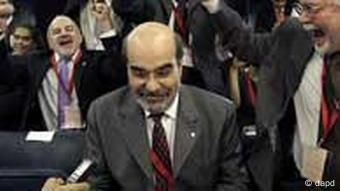 Graziano da Silva wants to bridge the divide between donor and developing countries
"Now it is a question of speeding up the process," he added. "We have to take more intensive action, especially in the poorest countries."
Graziano da Silva, who has both Italian and Brazilian citizenship, has gotten international recognition for Brazil's program to fight hunger, "Fome Zero" (Zero Hunger). The project, which he instated during his reign as food security minister, brought 24 million people out of extreme poverty and reduced malnutrition by 25 percent. It concentrated on involving civil society and creating equal rights for men and women.
Graziano da Silva said that in future, in addition to food-price volatility, he expects the FAO to focus on food security, cross-border disease, maintaining fish stocks in the world's oceans and climate change.
Author: Rafael Belincanta/afp (jen)
Editor: Sarah Steffen