Greek Prime Minister Alexis Tsipras welcomed proposals Friday to create a European Union coast guard agency to patrol its vast sea borders as pressure built at home for a solution to the growing numbers of migrants stranded in the country.
The proposal was initially put forward by France and Germany out of frustration with Greece's inability to stem an influx of hundreds of thousands of refugees across the Aegean sea, which was threatening the EU's open-border Schengen zone.
Dimitris Avramopoulos, the European Commissioner in charge of migration policy, told a Mediterranean security conference in Rome that national authorities had been overwhelmed by the unprecedented numbers of asylum seekers and other migrants arriving in Europe, creating the need for a pan-European solution.
"National authorities manage to do their best, but they were not prepared for that (surge in refugee numbers)," Avramopoulos said. "We need something more comprehensive and better structured."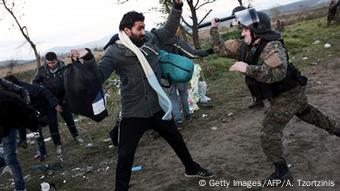 Macedonian policeman hits a refugee with his baton
The commissioner said the proposed new agency's tasks would include defending and protecting EU borders, providing migrants with support and carrying out search and rescue operations. It would have a staff of around 1,000 people and would be authorised to intervene whenever national authorities could not, unlike Frontex, the EU border agency already deployed in Greece, which needs an invitation from a member state.
The agency would work closely with planned European reception centres, or 'hotspots', to be established in Greece and southern Italy to ensure more comprehensive identification, registration and processing of new arrivals in Europe, the commissioner added.
Concerns over issues of national sovereignty
Greece and Italy, also a major entry point for those fleeing Africa and the Middle East, had so far expressed reservations over tougher border controls, citing concerns over issues of national sovereignty. So Tsipras' comments signalled a significant concession to Brussels and Berlin.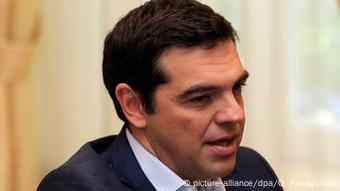 Greek PM Tsipras: "The European coast guard is welcome"
"The European coast guard is welcome," he told parliament. But he stressed that the ultimate authority to guard the borders lay with Greece, and reiterated the government's opposition to joint sea patrols with Turkey.
Tsipras's remarks came as pressure was building at home for the government to deal with the thousands of migrants and refugees stranded in Greece by a Balkan policy of only allowing entry to Syrians, Afghans and Iraqis.
A few thousand people mainly from Pakistan, Iran and northern African countries who were stuck in no man's land between Greece and Macedonia were forcibly removed by Greek police this week and sheltered temporarily in Athens.
But local mayors are furious about the shelter plans and, and voiced their objections to the country's migration minister in the form of a letter.
"We will not allow the former airport to become a warehouse of souls because it does not fulfill any condition of hospitality whatsoever," they wrote
But for the coming week, at least, the stranded migrants will remain at the airport, and a former Olympic venue, according to Migration Minister Yannis Mouzalas, who said, " the alternative was for them to sleep in fields."
bik/jil (Reuters, AFP)