NATO Secretary-General Jens Stoltenberg said Foreign Minister Sergey Lavrov had been urged during a visit to Brussels on Tuesday to convey to Russia's military the need to "avoid incidents spiraling out of control."
Stoltenberg was referring to what he said were numerous military exercises carried out at short notice by Russia "along our borders." He also reiterated NATO's "very strong" rejection of Russia's annexation of Crimea last year.
Last Wednesday, Lithuania's defense ministry said a NATO patrol intercepted eight Russian fighter jets over the Baltic Sea as Moscow staged maneuvers to mark one year since its forces annexed Crimea from Ukraine.
Lithuania claimed civil aviation over the Baltic had been "endangered" because the Russian crews had switched off their transponders and had not informed air traffic control.
Predictability urged
In Brussels Tuesday, Stoltenberg said he had spoken to Lavrov about the need for more "transparency and predictability" instead of "snap exercises" and the need to keep military lines of communication open.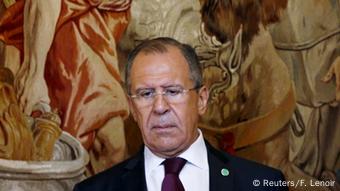 Don't overstep, Lavrov warns EU
Lavrov replied that Russia would never be "out of contact" and in turn warned that an EU summit in the Latvian capital, Riga, scheduled for Thursday and Friday, must not endanger Russian interests in Eastern Europe.
Back to the beginning
At the EU's last Eastern Partnership summit in Lithuania's capital, Vilnius, in 2013 the-then Ukrainian President Viktor Yanukovych refused - under Russian pressure - to sign a free-trade association agreement with the EU.
That refusal was followed by unrest in Kyiv that led to his downfall, a new government in the capital, Crimea's annexation, and then the pro-Russian separatist insurgency in eastern Ukraine against Kyiv. EU and other western sanctions against Moscow and Ukrainian individuals soon followed.
On Monday, EU trade commissioner Cecilia Malmstroem said the trade deal - signed last year by Ukraine's new government but delayed during the armed conflict - was set to begin next January, amid signs that Russia had dropped its objection.
Station NATO troops, urge Baltic nations
Last week, Latvia, Lithuania and Estonia said they would formally ask NATO by letter to permanently station about 800 troops on rotation in every Baltic state.
The three countries - all members of the 28-nation NATO alliance - have said in the past that they feel threatened by Russia's actions over Ukraine.
Since annexing Crimea, Russia has continued to deny that it provides troops or arms to support the rebellion in eastern Ukraine against Kyiv.
In 1997, NATO pledged in an agreement with Russia not to permanently station "substantial combat forces" in eastern alliance countries.
Wales summit
At a summit in Wales last year, NATO decided to bolster its existing response force to 30,000 troops, including a "spearhead force" of 5,000 that could deploy within 48 hours.
Since last November, the United States has been rotating small units through Poland and each of the Baltic states, augmented by units from other NATO allies.
The Soviet Union annexed Lithuania, Latvia and Estonia during World War II. They remained Soviet until 1991. In 2004 they joined the EU and NATO.
ipj/msh (AP, dpa, Reuters, AFP)