When US astronauts next touch down on the moon, expect them to walk almost as they do on Earth, thanks to new spacesuits NASA unveiled on Tuesday in Washington.
Standing in front of a giant US flag, two NASA engineers showed off the new spacesuits, modeling and doing squats and crunches in front of a crowd of students and reporters to reveal what the first zero-gravity space-wear under NASA's Artemis moon program would look like.
Read more: Fly me to the moon - holidaying in space
The suits, NASA said, offer key advantages over those of the Apollo-era. They make it much easier to walk, bend and squat when walking on the lunar surface, Amy Ross, NASA's lead spacesuit engineer, said.
One suit of orange fabric will be worn by astronauts when inside the spacecraft. Astronauts will wear a much bigger mostly white suit on the lunar surface.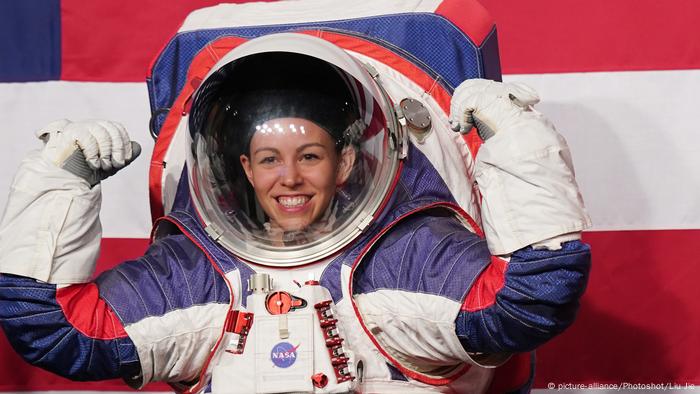 Another key innovation is the suit's unlimited capacity to absorb carbon dioxide
A major upgrade
The new suits come as a much-needed upgrade to NASA's astronaut wardrobe. "This is the first suit we've designed in about 40 years," Chris Hansen, a manager at NASA's spacesuit design office, said.
"What you saw today was a prototype of the pressure garment. The life support system is back in a lab in Houston," he said. "We want systems that allow our astronauts to be scientists on the surface of the moon."
Another key innovation is the suit's unlimited capacity to absorb carbon dioxide, a byproduct of respiration that is also poisonous in high quantities.
It achieves this through a system that both absorbs and then removes the gas into the vacuum of space, unlike current systems that merely absorb it until its reaches a saturation point.
President Donald Trump's administration in March directed NASA to land humans on the moon by 2024, accelerating a goal to colonize the moon as a staging ground for eventual missions to Mars.
The Artemis mission plans to land on the moon's South Pole to access its water ice, discovered in 2009, both for life support purposes and to split into hydrogen and oxygen for use as rocket propellant.
sri/stb (AFP, AP, Reuters)
Every evening at 1830 UTC, DW's editors send out a selection of the day's hard news and quality feature journalism. You can sign up to receive it directly here.