In their Nobel Peace Prize acceptance speeches on Monday, Denis Mukwege and Nadia Murad called on the world to protect victims of wartime sexual violence. They also slammed global indifference to the plight of women and children in conflict.
In her speech Murad implored the global community to help free hundreds of women and girls still held by jihadists. She also said that the world must protect her people and other vulnerable communities.
Speaking at Oslo's City Hall and seemingly overcome with emotion, Murad said: "It is my view that all victims deserve a safe haven until justice is done for them."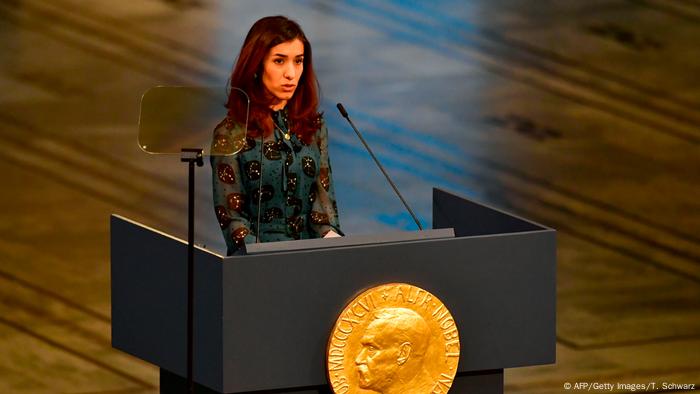 Murad said the world cares more about oil and weapons than women and children.
Murad survived the horrors of captivity under the "Islamic State" (IS) group in Iraq and Syria where they targeted her Kurdish-speaking community.
Older women and men faced summary execution during the IS assault, which the United Nations has described as a possible genocide. Murad was captured in 2014 and suffered beatings and gang-rape before she was able to escape.
Read more: Nobel Peace Prize sends strong message against sexual violence
In her Nobel acceptance address, Murad said more than 6,500 women and girls from her community had been kidnapped, raped and traded "in the 21st century, in the age of globalization and human rights."
The fate of as many as 3,000 women and girls is still unknown.
"Young girls at the prime of life are sold, bought, held captive and raped every day. It is inconceivable that the conscience of the leaders of 195 countries around the world is not mobilized to liberate these girls," she said.
"What if they were a commercial deal, an oil field or a shipment of weapons? Most certainly, no efforts would be spared to liberate them."
Congolese gynecologist Mukwege, whose work has made him a global expert on rape in conflict, and Murad both said victims were sometimes valued less than commercial interests.
"If there is a war to be waged, it is the war against the indifference which is eating away at our societies," Mukwege said at the ceremony.
av/jm (AFP, AP, dpa)
Each evening at 1830 UTC, DW's editors send out a selection of the day's hard news and quality feature journalism. You can sign up to receive it directly here.