The Bavarian city has the largest population of ethnic Uighurs outside of China and the motion now must gain approval from German Chancellor Angela Merkel's cross-party government before it can accept the inmates.
US President Barack Obama is closing the prison that was established on Cuba to house terror suspects. But several European countries have expressed a disinterest in accepting prisoners, claiming they are the US government's responsibility.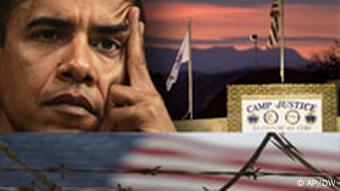 Some European countries say the inmates are the US government's responsibility only
Gaining approval to accept the Uighur inmates in Munich will not be easy because the German government is divided on the issue of hosting Guantanamo inmates. Social Democrat Foreign Minister Frank-Walter Steinmeier is in favor of taking in some freed prisoners while Christian Democrat Interior Minister Wolfgang Schaueble is against it.
The Uighurs at Guantanamo were arrested after the US invaded Afghanistan and have been imprisoned there for seven years. Washington has cleared them of any terrorist activity, but hasn't repatriated them to China for fear they would be persecuted or tortured upon their return.
China outraged
This has angered China, which says the group of 17 are part of a United Nations-listed terror group seeking an independent homeland in the Xinjiang region. The latter lies in the northwest of China and is home to the largest Uighur population. Uighurs are mostly Muslim.
Beijing has demanded that the Uighurs be returned and it issued a warning on Thursday after learning that three of the prisoners have applied for refugee status in Canada.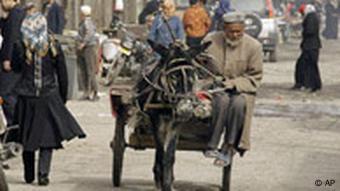 Most Uighurs are Muslim and reside in northwest China
"We have expressed our position many times about those Chinese terrorists detained in Guantanamo. We are opposed to any country accepting those people," Chinese foreign ministry spokeswoman Jiang Yu told reporters in Beijing. "We hope the parties concerned can resolve conveniently this issue according to the international laws and regulations."