Germany's defense minister, Ursula von der Leyen, was the first speaker at this year's Munich Security Conference, an annual meeting at which leaders exchange ideas over how to manage the world's crises and mull ways to optimize global security.
One year ago, von der Leyen, fresh in her new role as defense head, used the podium to announce that Germany would show more engagement on the world stage. From a diplomatic, developmental and even military perspective, she promised that Berlin would make its mark.
Whether or not those pledges came to fruition over the past year, von der Leyen began this year's gathering with similar, perhaps more concrete pledges with regard to Germany's contribution to its defense partners: "We will bring our best resources and capabilities to our alliances and partnerships," von der Leyen said at the opening of the conference. "This means, however, that our desire to act will have to come together with our capacity to act," she said, referring to recent surveys that suggest that less than half of the German population wants to be involved in international conflicts.
"From abroad, this may appear as though Germany is dwarfing its potential; however, given our history, we cannot be indifferent to world affairs. It is Germany's moral duty to fight in defense of universal human rights."
Weapons to Ukraine could 'pour oil onto the flames'
Von der Leyen confirmed that Germany would push forward with efforts to mediate in the conflict in Ukraine, following a meeting between Chancellor Angela Merkel, French President Francois Hollande and the Ukrainian government in Kyiv on Thursday.
She opposed sending any German weapons to Ukraine. "There are too many weapons in Ukraine already. For the separatists, the supply is potentially unlimited," von der Leyen said, criticizing Russia for involvement in the conflict.
"A focus on weapons alone could pour oil onto the flames and move us further away from the desired solution," she added.
Upon arriving in Munich, NATO Secretary-General Jens Stoltenberg said he fully supported those efforts by the French and German leaders to secure a peaceful resolution to the now "critical" crisis in Ukraine.
"The situation is very serious, it's critical and it's urgent and therefore I fully support the new attempts by Chancellor Merkel and President Hollande to find a political solution," Stoltenberg told reporters as he arrived in Munich, where the Ukraine crisis is the top issue.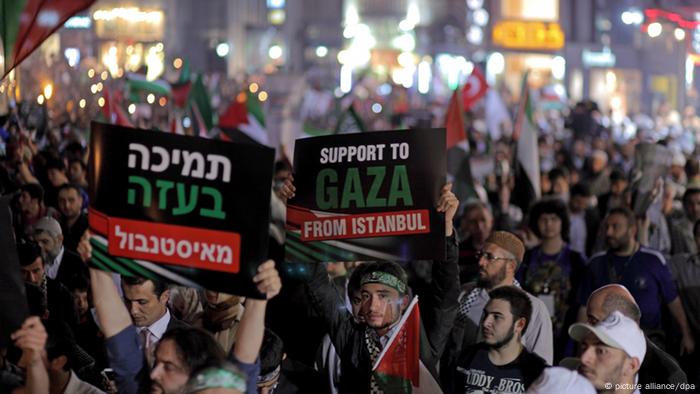 Turkish-Israeli relations have been on ice since the aid flotilla attack in 2010
Turkey pulls out
Even before von der Leyen made her opening remarks, the conference had already seen its first mini-scandal, however.
The Turkish foreign minister, Mevlut Cavusoglu, on Friday pulled out of the Munich convention at the last minute, saying he did not wish to attend a joint session together with Israel. "I was going to attend the conference," Cavusoglu told a news conference in Berlin, "but we decided not to after they added Israeli officials to the Middle East session at the last minute."
Cavusoglu said the decision to withdraw had nothing to do with Turkey's relationship with Germany, and was based solely on an ongoing diplomatic dispute since a major rupture in 2010, when Israeli soldiers killed nine Turks travelling in a Turkish-led humanitarian aid convoy attempting to break a blockade of Gaza.
President Tayyip Erdogan, an outspoken advocate of the Palestinian cause, last year likened the actions of Israel to those of Hitler, in comments that led Israeli Prime Minister Benjamin Netanyahu to accuse him of anti-Semitism.
Last month Turkish Prime Minister Ahmet Davutoglu in turn likened Netanyahu to the Islamist militants who killed 17 people in Paris, saying both had committed crimes against humanity.
glb/kms (Reuters, AP, AFP)