Growing anticipation among Russian media outlets and elite circles over an anticipated report by the US government has quickly turned to ridicule. The so-called "Kremlin Report," they said on Tuesday, was a joke.
Russian President Vladimir Putin jokingly regretted not having been named on Washington's list, but nevertheless called the move by Washington an "unfriendly act." Russia has said it will not react to the report for the time being.
Monday was the US Treasury Department's deadline to deliver a detailed report to Congress on Russian oligarchs and top politicians ranked according to their wealth and proximity to the Kremlin. The deadline was part of a sanctions bill passed by Congress last summer, in response to Russia's activities in Ukraine, its annexation of Crimea and its meddling in the 2016 US presidential election. Moreover, it was expected that the report would outline Russian connections to key sectors of the US economy as well as possible instances of corruption.
Read more: Alexei Navalny, the opposition leader captivating Russia's youth
Human rights representatives and oligarchs
Shortly before midnight, the Treasury Department published a list containing 210 names. The list included the entire Russian government, with Prime Minister Dmitry Medvedev at the top. It also included members of the presidential administration and around 100 oligarchs whose personal wealth, according to Washington's estimates, exceed $1 billion (€807 million). A portion of those named are already on the current US sanctions list.
Among the report's surprises were the names of Mikhail Fedotov, the head of the president's human rights council, and Russia's children's ombudswoman, Anna Kuznetsova. According to Fedotov, "the list was apparently compiled using the presidential administration's telephone directory."
"I never would have thought that such a list would be built on such a meaningless basis," he told DW. Fedotov suggested that human rights representative Tatyana Moskalkova was not on the list "because she is in a different directory."
Fedotov doesn't expect to suffer any consequences from his inclusion on the list, because he has no money or property in the United States. "I have nothing to fear."
A list to Putin's liking?
Eugene Kaspersky, the founder and CEO of Russian security software company Kaspersky Lab, is also a new addition to the list. The US recently prohibited state agencies from using the company's software for fear that Russian intelligence services could use Kaspersky products for cyberespionage purposes. Kaspersky himself has denied any cooperation with Russian intelligence services.
The US Congress conceived the report as a template for new, future sanctions against Russia. If and when such sanctions might be put in place remains unclear. On Monday, the US government said it saw no need for further sanctions, pointing to the fact that the Russian arms industry, for instance, had already lost billions as evidence that current sanctions are working.
The report has garnered mixed reactions from experts. Anders Aslund, a senior fellow with the Washington-based think tank Atlantic Council, said the list fails to meet the aims outlined in the sanctions bill. Aslund told DW that it contains "too many names, incorrect names and parts of Putin's inner circle are not even mentioned."
He also accuses the Trump administration of watering down US sanctions against Russia. The report was intended as an instrument to divide Russia's elites, but Aslund said such a broad list plays straight into Putin's plan to signal that "they are all in the same boat."
Read more: Twitter admits Russia-linked troll accounts more widespread than first feared
No new sanctions yet
Mikhail Kasyanov, a Russian opposition politician and the prime minister under Putin from 2000-2004, thinks the list will serve as a warning to Russia's elite, suggesting they could be hit with sanctions at any time.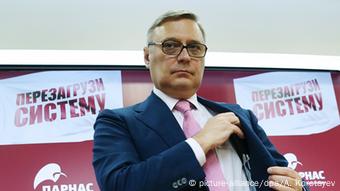 Mikhail Kasyanov, a Putin critic, thinks the list will serve as a warning
"It is a signal that says we're watching you, we have you under the microscope," Kasyanov said, adding the list will hurt the reputation of Russian politicians and businessmen with or without further sanctions.
"Western banks will be very cautious about doing business with them. Some may even be advised to close out accounts."
The threat posed by the list, as well as future sanctions, is that it might "make Russia toxic" and turn it into a country that could be unsafe for business, according to Alexander Baunov, an analyst with the Carnegie Moscow Center.
It remains unclear what is included in the classified portion of the report. Foreign policy expert Ian Bremmer, head of the US consulting company Eurasia Group, believes the classified material contains "details of corruption links." For his part, Bremmer also does not expect any new sanctions for the time being.