At least 16 people were detained at the gay pride event, Russian radio broadcaster Echo Moskwy reported on Saturday. Authorities loaded the detainees, including several Orthodox counter-demonstrators, into waiting vans.
Gay rights activists insisted on holding the march on Saturday despite a ban issued by a Moscow court, the AFP news agency reported.
The counter-demonstrators who gathered to stop the event told AFP that they were there to assist the police in imposing the court's ban.
Leading gay rights activist Nikolai Alexeyev posted a photo of himself in detention on Twitter and wrote, "Arrested and beaten at 10th Moscow pride. They probably broke my left hand finger."
Homosexuals in Russia face regular harassment. Requests to hold pride parades have been consistently rejected by authorities in the past.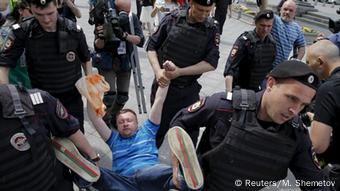 The leading gay rights activist Nikolai Alexeyev was arrested during the rally
In 2013, President Vladimir Putin approved legislation banning the dissemination of "gay propaganda" to minors. The law has been widely condemned in the West.
Human Rights Watch last December sounded the alarm over a rising number of homophobic attacks in Russia, saying that the ban on "gay propaganda" effectively legalized discrimination.
ra/sms (dpa, AFP)