Montenegro for years has been plagued by corruption, while journalists critical of the government have been put under pressure. These longstanding issues are in part due to the lack of political diversity in the small western Balkan country: The Democratic Party of Socialists (DPS), with Milo Djukanovic at the helm, has been ruling Montenegro since 1991.
The strongman president has weathered his share of storms, from the bloody wars of the 1990s, to his opposition to Serbian autocrat Slobodan Milosevic, to accusations from Italy and Germany of largescale cigarette smuggling. He has served as either prime minister or president nearly uninterrupted since 1991, and whenever he did step back from the political scene, he was quick to return. As DPS leader, he has always been able to pull the strings of power, even from behind the scenes.
Milo runs again
And now he's ready to stand for office once more when Montenegro holds its presidential election on Sunday, April 15. Pollsters expect Djukanovic to collect about half of the votes. However, it's not yet clear if he will be able to win outright on the first ballot, or whether the country's fragmented opposition — featuring six different candidates — can force a second round of voting.
Read more: EU expansion: Juncker stresses real progress on western Balkans trip
"I think Milo can win this time as well — unfortunately, I have to say, because a democracy needs change," Tufik Softic, a Montenegrin journalist critical of the government, told DW. "He has been there forever. My children have studied in the meantime. They have never experienced another party in power. The country urgently needs democratic renewal. But the opposition is still too weak."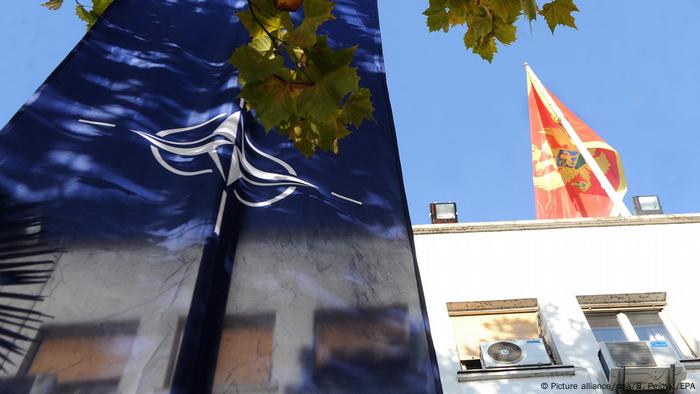 Last year Montenegro joined NATO, an alliance the opposition wants to leave
Who will lead the opposition?
There are two candidates who could pose a danger to Djukanovic. Draginja Vuksanovic, a respected university professor, is representing the Social Democratic Party (SPD). "Djukanovic is creaking under the strain of his misdeeds," she told Montenegro's top-selling Vijesti newspaper. "After three decades in power, 'divide et impera' (divide and rule) is the only option for him. He views anyone who doesn't want to plunder the country with him as a traitor." Those are strong words coming from a candidate representing a party that for many years formed a coalition with Djukanovic's DPS.
Read more: The western Balkans: A region of secessions
Economist Mladen Bojanic has also thrown his hat in the ring. The 56-year-old was a parliamentarian in Montenegro until 2016, initially representing the small party Positive Montenegro. He later became an independent when his party began adopting pro-government positions. Bojanic pushed for Montenegro's entry into NATO to be decided in a national referendum, and took part in opposition protests against the government. Viewed as incorruptible and honest, he was chosen as a compromise candidate to represent the country's disparate opposition. Opinion polls predict he can win 35 percent of the vote in the first round.
"The one who caused this situation is now saying that the state is stronger than the mafia," Bojanic said during the campaign. "I agree, the state is stronger. I just have one problem — the answer to the question of which side Djukanovic is on — the side of the state or the mafia? He should leave on April 15, so that we no longer have to ask ourselves that question."
The opposition is hoping to at least force a second ballot on April 29, and, in the case of a victory, a domino effect. If Djukanovic begins to wobble, they could push for new parliamentary elections and with that, a change to the decades of DPS dominance.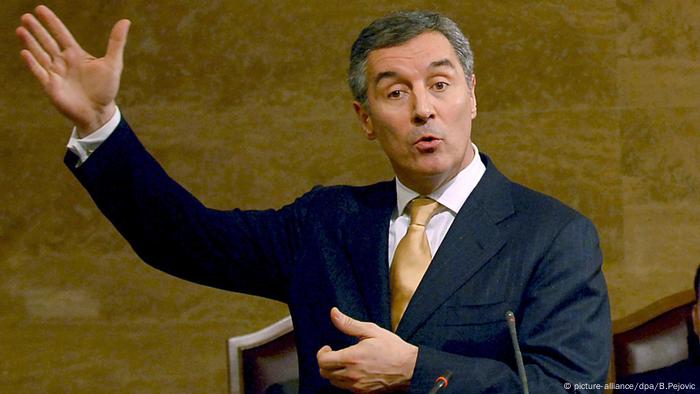 Montenegro's fractured opposition has helped Djukanovic cement his hold on power
State-sponsored nationalism
Djukanovic understands the symbolic significance underpinning the presidential vote. He wants to show that, as in the past, he cannot be beaten. That's why he's turned to a proven tactic in what he calls a "historic election": Anyone criticizing him has something against Montenegro itself and its ties to the West. Those people want to get in the way of the country and its goals, Djukanovic says, while only he can keep the country headed down the right path.
It's a carefully cultivated strategy of state-sponsored nationalism. This polarizing, identity-driven approach has brought Djukanovic success so far. And despite ruling for 27 years, he's not done yet. At 56, he's still too young for political retirement. Critics say his grip on power could have very practical reasons: immunity. The corruption and nepotism is hard to deny in a relatively manageable state of just 600,000 people. And right now, only his party's majority in parliament is protecting him from prosecution.
Unfortunately for the opposition, they have not done a good job so far of convincing the electorate that they are a credible alternative to the longstanding rule of Djukanovic. Whether the presidential vote on Sunday will change anything in that regard remains to be seen.
Each evening at 1830 UTC, DW's editors send out a selection of the day's hard news and quality feature journalism. You can sign up to receive it directly here.