Around 6.2 million adults in Germany can't read or write properly in German, according to a literacy study unveiled Tuesday in Berlin.
The figures are an improvement on an earlier literacy study conducted in 2011, but education researchers and politicians contest that the German education system needs to work harder to combat the root causes of illiteracy as the economy becomes more highly skilled.
What the study found:
6.2 million adults in Germany cannot read and write properly in German.
That means they can understand and compose individual sentences but may struggle with a paragraph.
More than half (52.6%) of this group are German native speakers.
47.4% have a migrant background and are non-native German speakers.
78% of those with a migrant background said they were capable of reading and writing sophisticated texts in their mother tongue.
7.3% of adults whose first language is German have poor reading and writing skills.
Around 7,200 German-speaking adults between the ages of 18 and 64 were interviewed for the 2018 government study, known as the LEO study.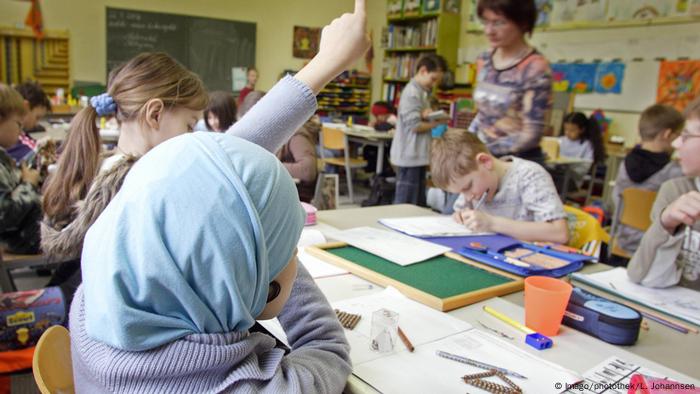 Socioeconomic and immigration status continue to be key factors in literacy and educational success in Germany
Poverty and immigration status key factors
The Ministry of Education acknowledged it needs to bolster German-language learning, but also presented the results as a "success story" for the German education system: 1.3 million fewer individuals displayed low literacy levels in 2018 as compared to 2011 figures.
However, dubbing the numbers a success is a bit of a reach, Nele McElvany, executive director of the Institute for School Development Research in Dortmund, told DW.
"The numbers are still very high for a rich, Western country," she said. In 2016, Germany ranked 18th in adult literacy among OECD countries.
Socioeconomic and immigration status continue to be key factors in literacy and educational success in Germany. Germany's education system, which separates students into a hierarchy of educational paths based on primary school performance, has one of the strongest correlations in the world between family background and competency acquired by students, said McElvany.
Read more: Taboo of illiteracy keeps ashamed Germans out of the classroom
Rethink in education needed
Literacy issues that pop up in adulthood in immigrant and impoverished communities begin in the classroom, requiring a rethink in the way teachers are trained in dealing with at-risk groups, McElvany added.
"Our education programs are still geared toward the average student and the average environment," she said. "We simply don't equip our student teachers enough to deal with the various environments and the various challenges of reality later on."
Government intervention to solve education issues is a tricky field to navigate, however. In Germany, budgetary control and the structure of education systems is a right guaranteed to Germany's 16 federal states, meaning each state makes its own decisions.
The right is also one that states tend to strongly defend against perceived intervention from the federal government. It was only in March that the German Parliament changed the nation's Basic Law to allow federal funds to flow to individual states for temporary relief programs, such as bolstering digital infrastructure.
Read more: Germany's school system 101: Prepare for the mind-boggling

Trickle-down effect
Without worthwhile reforms to target glaring issues in Germany's education system, the nation's economic powerhouse could lose momentum.
"Education and salaries, economic growth in Germany, are likely more dependent on support for reading than we would normally assume," Jörg Maas, director of Reading Foundation ("Stiftung Lesen"), a German organization that supports reading initiatives for children, told German broadcaster ZDF.
The 6.2 million German adults with low literacy rates at the center of the study represent 12% of the German workforce. Among those 6.2 million some 62.3% are employed.
Moreover, some 10.6 million adults, or 20.5% of the adult population, are not classified as having low literacy, but still lack mastery of the spelling and grammar skills taught throughout primary school.
These issues will only become more pronounced as Germany transitions from a manufacturing to a digital economy that requires high literacy, increasing the need for funds to bolster innovative literacy programs that utilize new technology to fill the gaps.
Read more: Battle for literacy goes digital
"The LEO study shows successes in self-learning offerings or addressing [issues] via social media," Margit Stumpp, the environmentalist Green party's parliamentary spokeswoman for education, told DW. "These findings should be used to achieve quantitative and qualitative improvements and to broaden them. The fate of the 6.2 million people should not fail because of money. "
Read more: Futureproofing Germany: Can Europe's powerhouse live in the digital fast lane?
Every evening, DW sends out a selection of the day's news and features. Sign up here.