Dutch daily "De Volkskrant" quoted three sources close to the investigation on Tuesday, saying that the 15-month Dutch-led inquiry had found that the plane was hit by a BUK surface-to-air missile.
The Malaysian airliner crashed en route from Amsterdam to Kuala Lumpur on July 17, 2014, killing all 298 people on board, most of whom were Dutch citizens. The aircraft was flying over rebel-controlled eastern Ukraine at the time of the incident.
Two sources told the "Volkskrant" on Tuesday that "the BUK missile is developed and made in Russia."
"It can be assumed that the rebels would not be able to operate such a device. I suspect the involvement of former Russian military officials," one told the paper.
The Dutch Safety Board, which led the international team of investigators, stressed, however, that while they could conclude that flight MH17 was shot down by a Russian-made missile, its commission would not determine who pulled the trigger. A separate probe into who launched the missile is underway by Dutch prosecutors.
The final report by international invetigators was due to be officially released later on Tuesday.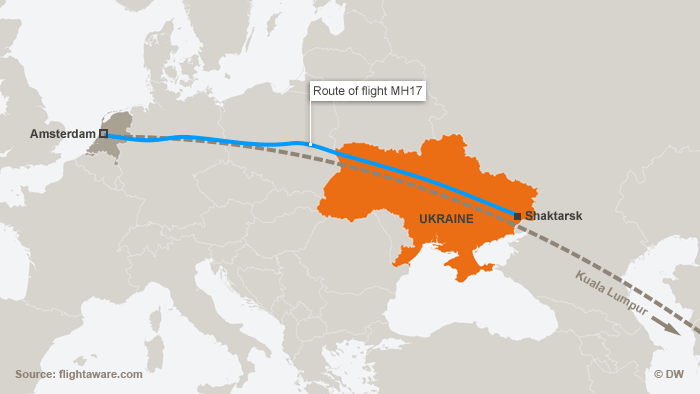 Contradicting reports
A Russian state-controlled BUK missile-maker said, however, that its own investigation contradicted the conclusions from the Dutch probe.
Speaking at a news conference on Tuesday, the head of the Russian Almaz-Antey concern, Yan Novikov, said the Russian report shows that if flight MH17 was hit by a BUK missile, it was fired from the village of Zaroshenske, which Russia says was under Ukrainian government control at the time.
The chief of the missile manufacturer also said that according to the results of an experiment held in July, the model of missile used could also have been much older than previously thought.
That information was presented to the Dutch investigators, but was not taken into account, Novikov claimed.
Ukraine and Western countries continue to argue that the missile was fired by Russian troops or Russian-backed separatists.
ksb/kms (AFP, AP, dpa)