Jose Rodriguez from Siguatepeque in Honduras has been carrying his white flag for more than 3,000 kilometers now. "I have two kids in Honduras. I want them to have a better life," the 29-year-old tells DW. The white flag has become the symbol of the migrant caravan, which started from the Honduran city of San Pedro Sula on October 12 with the aim of reaching the US. "The flag symbolizes that we mean no harm, and that we have good intentions," Rodriguez explains.
'Let us cross'
On Thursday, Jose Rodriguez, his companions and their flags reach El Chaparral in Tijuana, the main border point from Tijuana, Mexico, into the US. That day, 300 migrants are camped here, demanding that US authorities accept their requests for asylum. "We can't wait any longer," the migrants shout, "let us cross."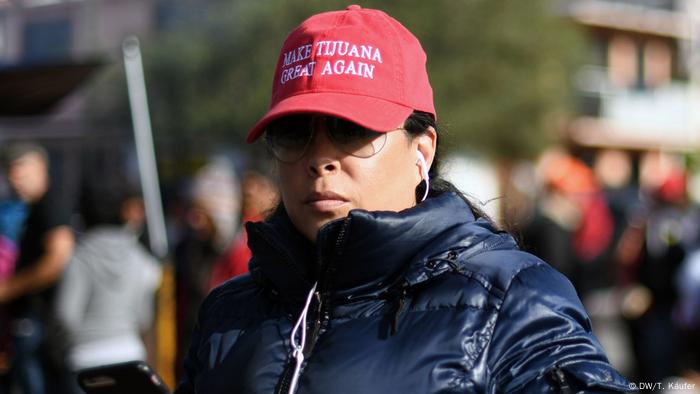 Many in Tijuana are opposed to more migrants coming in from Honduras and other Central American countries
Mexican security forces, meanwhile, have cordoned off the area and blocked the main access road, causing traffic chaos in the Mexican border town of Tijuana because cross-border traffic is especially heavy on Thanksgiving, the US holiday.
Many Tijuana locals are fed up with the migrants. Some sport red Donald Trump-like baseball caps reading "Make Tijuana great again." Last Sunday, about 1,000 locals gathered to protest against the influx if migrants, chanting "No to invasion, yes to migration." Many Mexicans cheered them on. Local media report that an additional 7,000 migrants are set to arrive in the coming week.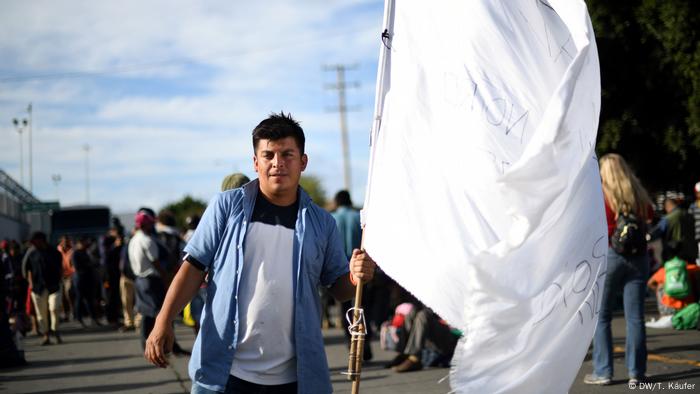 Jose Antonio from Honduras wants a better life for his children
Muddy camps
The 5,000 migrants who have already made it to Tijuana with the first caravan from Honduras are struggling, the atmosphere is tense.
"It's chaos," Jose Rodriguez says. "There is no coordination, no one is leading us. We all just start running around when a rumor starts circulating," he adds.
Heavy rains have made conditions in the camp even worse. The Benito Juarez sports arena, where the makeshift camp has been set up, is turning into a muddy swamp. Most migrants have to sleep in the open, and many are sick. The catastrophic conditions are particularly hard on the 1,000 children there.
10,000 jobs available
Meanwhile, the regional government is doing what it can to integrate the migrants into the local economy. Luis Rodolfo Enriquez runs a kind of job agency near the emergency camp.
Read more: Can Donald Trump use force against migrant caravan?
"In the first couple of days, only a few dozen came to find out about vacancies," he tells DW. But soon, he adds, they came to trust him, and more migrants inquired about work. There are some 10,000 unfilled vacancies in Tijuana. Enriquez is convinced that half the migrants can get a job if they want. He says people with and without qualifications have a chance of getting work.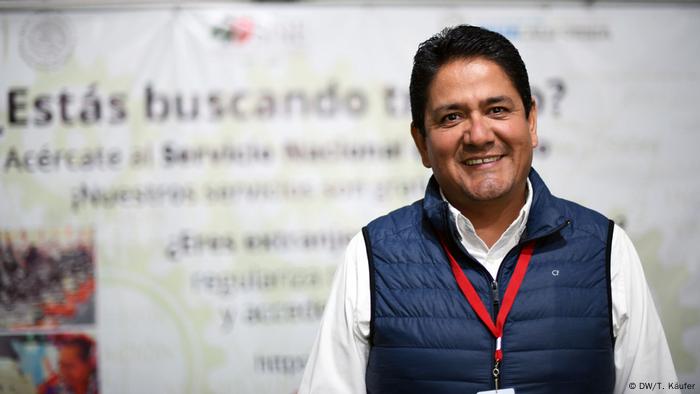 Luis Rodolfo Enriquez is coordinating job offers for the migrants
Although Rodolfo Enriquez's recruitment agency is an improvised operation, everything is well-organized. There are plastic chairs and wooden tables. Employers can meet potential workers, and down the hall, immigration councilors issue temporary work permits. All over the city, shops display signs reading "staff wanted."
Trying to ease the tensions
Mexican authorities have been working hard to placate angry migrants demanding to enter the US. At the border crossing, one of them tells the migrants that Tijuana has plenty of job opportunities. But most migrants are determined to reach the US.
Jose Rodriguez remains optimistic that he will make it across the border, no matter how hard the circumstances. "I cannot give up hope, I want a better future for my children. That's why I won't give up."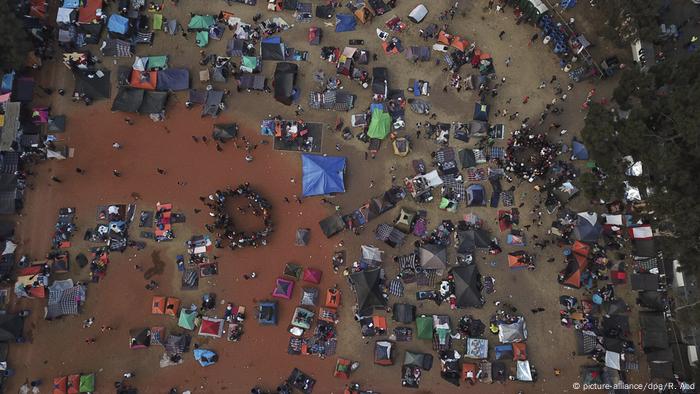 Heavy rains have exacerbated conditions in the camp
As night falls, tensions flare up in El Chaparral. A few dozen migrants insist on staying at the border crossing throughout the night.
While the migrants discuss their situation after nightfall, they watch as TV screens nearby show US President Donald Trump — subtitled in Spanish — explaining that he plans to shut the entire US-Mexico border if the situation gets out of control.
This is followed by a report on Mexican TV that another group of migrants has left the makeshift camp in Mexico City. Their destination: The United States of America.