The CDU proposal gives no precise numbers, but calls for Germany to set a new target each year based on the humanitarian situation in global crisis zones and Germany's ability to absorb newcomers.
The CSU wants a yearly cap of no more than 200,000 refugees, a move that Merkel has rejected, but may now be moving closer to accepting as a way of keeping her sister party on board as elections approach in late 2017.
With anti-immigration parties - in particular far-right Alternative for Germany (AfD) - gaining ground in polls and local elections, Merkel has sought to reposition herself to the right in recent weeks, in particular on the issue of wearing burkas in public.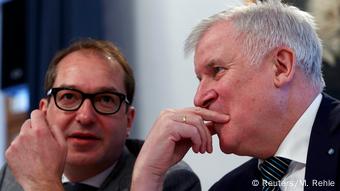 Bavarian state premier and leader of the Christian Social Union (CSU) Horst Seehofer (R) with German Transport Minister Alexander Dobrindt
"The proposal envisages a concept for the establishment of a 'breathing' benchmark for the possible admission of people in need of protection in Germany," CSU MP Stephan Mayer and his colleague Armin Schuster of the CDU wrote in a letter to the chancellor and CSU leader Horst Seehofer.
"I believe it is in the interests of both the CDU and CSU sister parties that we enter the federal election campaign united," Mayer told CSU members at an annual retreat.
Seehofer meanwhile has said it is not a given that his MPs would join a coalition led by Merkel after a general election in September.
He has faced criticism that his tough stance on immigration was a reaction to the rise of the populist party and quite clearly has an eye on a regional election in Bavaria in 2018. The AfD has seats in 11 of Germany's 16 federal states.
Seehofer said on Wednesday that a "reconciliation summit" he is due to hold with Merkel in Munich in February was still planned but that the program was not set.
According to "Bild" the idea has no chance and was "stillborn," according to a source close to Seehofer.
jbh/kl (dpa, AFP)