Born in Stuttgart in 1920, Weizsäcker served as "president of all citizens" from 1984 to 1994. On Saturday, Angela Merkel spoke of her sadness in the chancellor's office.
"The death of Richard von Weizsäcker is a great loss for Germany," she said.
Though the German head of state performs a largely ceremonial role, Weizsäcker became known as the "political president," with a knack for giving stirring speeches often shaped by his own history.
"We are losing a great man and an outstanding head of state," current President Joachim Gauck wrote on Saturday in a letter of condolence to his predecessor's widow, Marianne Baroness von Weizsäcker.
Vice chancellor and Social Democrat head Sigmar Gabriel said that "Weizsäcker had the gift and the intellect to provide people with orientation and represent Germany worthily in the world."
Greens co-chairs Anton Hofreiter and Katrin Göring-Eckardt said that "we will all miss his moral integrity."
French President Francois Hollande emphasized Weizsäcker's "moral stature."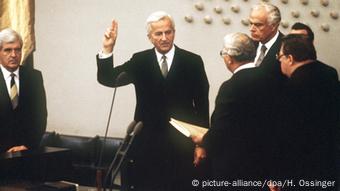 Weizsäcker was president from 1984 to 1994
The war's legacy
Weizsäcker, who began his military service in 1938, found himself injured in combat several times, earning the Iron Cross for courage from the Nazis in 1944.
After the war, Weizsäcker studied law and history and assisted the lawyer defending his father, an aide to Adolf Hitler's foreign minister, at the US-run Nuremberg trials. His father received a seven-year sentence, later reduced to five.
As president, Weizsäcker confronted Germany's Nazi past. In a speech on May 8, 1985, the 40th anniversary of the end of World War II, he said the war's end had meant "liberation from the inhuman system of the National Socialist tyranny."
The speech "had an impact on an entire generation and has shaped Germany's image as an integrating force in the middle of our continent," said Jean-Claude Juncker, the head of the European Commission, on Saturday.
That praise was echoed by Germany's neighbors to the east. "We have to remember here that Weizsäcker is the son of a well-known Nazi," Rafal Kiepuszewski, the deputy director of Poland's international broadcaster, told DW on Saturday. "And yet, Polish leaders commend him for his rejection of his past."
mkg/cmk (Reuters, AFP, dpa, AP)