The decision to dedicate a memorial to the victims of April's plane crash in Smolensk, Russia was considered the most significant agreement made during Russian President Dmitry Medvedev's visit to Poland on Monday.
Poland's then-president Lech Kaczynski and 95 other victims were killed in the plane crash while on their way to a commemoration of the Katyn massacre.
Medvedev vowed that the Russian side of the crash investigation would be objective, and he promised to assist in uncovering the full truth of the Soviet massacre of Polish officers in World War II.
New chapter
"I'm convinced we are beginning not only a new chapter in Polish-Russian relations, but also a good chapter in the book of bilateral relations that we have been writing for the last 1,000 years," said Polish President Bronislaw Komorowski following his meeting with the Russian president.
Medvedev was given a very warm welcome. Following talks between the two delegations, Komorowski told a news conference that the dry spell in relations with Russia was definitely over.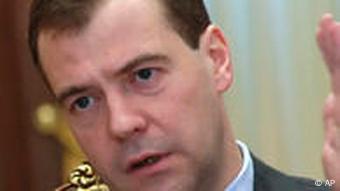 Medvedev said Poland was helping Russia build relations with the West
"It will probably be a very long road, but we are determined to go down this path and many goals will be defined jointly by Poland and Russia," Komorowski said.
Komorowski added that the focus of the talks had been on the economy, prospects for developing transport infrastructure between the two countries, building bridges between the two nations based on a new system of youth exchange schemes and developing links with the Russian Kaliningrad enclave squeezed between Poland and Lithuania.
Medvedev also spoke about Poland's new role in helping Russia forge relations with the West. "We are currently building multidimensional relations with the EU and NATO. The involvement of our Polish colleagues will be conducive toward resolving issues that emerge during this dialogue," he said.
The Russian president also spoke about Moscow's determination to get to the root of difficult moments in Polish-Russian history, notably the Katyn forest massacre during World War II in which thousands of Polish POWs were executed on Stalin's orders.
The Russian parliament recently issued a declaration apologizing for the Soviet war crime against Poland. A set of documents related to the issue was presented to the Polish side during Medvedev's visit.
"In our history, there were bright sides, but also difficult and dark ones. And in life, it is important to try to separate history, whatever it may be, from the present," Medvedev told a Polish weekly news magazine on Monday. "Otherwise, we will always be hostage of the past."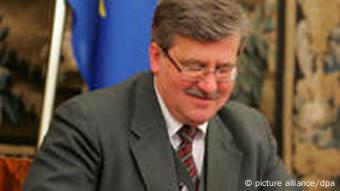 Komorowski follows a pragmatic approach towards Russia
Russia admits its role in the Katyn massacre
According to observers, Moscow's willingness to finally admit to its role in the massacre following decades of disinformation and blaming the crime on the Nazis, has convinced many ordinary Polish citizens.
In spite of protests by smalls groups of demonstrators representing Poland's right wing nationalist groups, both sides went out of their way to make it a success during Medvedev's visit.
Since the death of former President Kaczynski, who had steered a confrontational course in relations with Moscow, Komorowski has decided to adopt a more pragmatic approach towards Russia.
In the past, successive Polish governments were criticized by their counterparts in the EU for being anti-Russian and blocking any attempts to build a more pragmatic relationship with Moscow, something that now definitely seems a thing of the past.
Author: Rafal Kiepuszewski/sst (dpa, AFP)
Editor: Martin Kuebler