An investigation has revealed that officials of one of Japan's most prestigious medical universities manipulated applicants' test scores over more than a decade to keep the number of female students artificially low and also accepted bribes to inflate the results of "priority" male applicants.
The Tokyo Medical University on Tuesday apologized for docking the entrance scores of female applicants over decades.
The issue highlights the deep-rooted problem of sexism in Japanese society, where many people believe that women do not need to have an advanced education or the same opportunities as their male counterparts in the workplace because they will inevitably leave their employer when they get married or to have children.
The Japanese government has been trying to instill a new attitude towards women and to encourage them to have both families and careers, but a series of cases that have recently come to light show that old-fashioned views are only changing very slowly.
In April, Junichi Fukuda was forced to step down as vice finance minister after being accused by a female journalist of making sexually inappropriate remarks. Despite the reporter having a recording of their conversation, Fukuda maintains that he did not ask if he could touch the woman's breasts and suggesting that they have an affair.
Fukuda attempted to ride the scandal out but the furor surrounding the incident worsened when Taro Aso, the finance minister, intervened to say that his colleague may have been the victim of entrapment and declared that sexual harassment was "not a crime."
Female politicians staged a protest outside the ministry in the wake of the scandal, brandishing #MeToo posters.
Read more: #MeToo makes slow progress in male-dominated Japan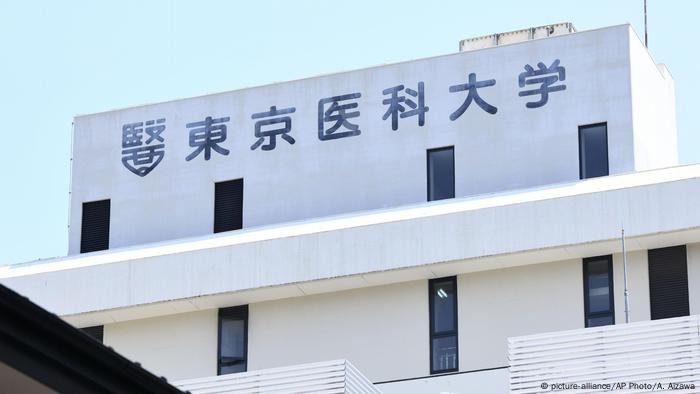 Japan medical school admits scoring down female candidates
Harassment awareness courses
As a result of the case, the ministry announced that all its officials would be obliged to attend courses on sexual harassment in the workplace.
But it is the latest case, involving students applying for places at Tokyo Medical University, which has sent shockwaves through Japanese society.
Lawyers were initially called in to conduct an investigation into allegations of corruption at the university after prosecutors in July indicted Futoshi Sano, a former director general at the education ministry, on charges of helping the university secure Y35 million (€272,065) in government subsidies in exchange for a place for his son at the college.
That investigation quickly mushroomed to reveal that a number of male students classified as "priority" applicants had their test scores revised upwards to ensure they would have a place at the university and bring in donations from the parents, the investigators' report revealed.
At the same time, university officials subtracted points from the test scores of every female applicant to the university, with a manual detailing how the scores were to be manipulated and indicating that the aim was to keep the number of female students at the university to around 30 percent of the total.
Read more: 'Comfort women' dispute: Japan's Abe to snub South Korea's Olympics invite?
Men favored over women
Senior university officials believed that male doctors were preferable because women were more likely to leave the profession after getting married and to have children. The university has a network of affiliated hospitals, and there was concern that women would cause staffing shortages when they stopped work or took time off to raise children.
Initial reports suggested the policy had been implemented in 2011, although the investigation traced the first cases back to 2006, Kyodo News reported.
"This is a really regrettable incident," said Kenji Nakai, a lawyer who took part in the investigation.
"By deceptive recruitment procedures, they sought to delude the people taking the tests, their families, school officials and society as a whole. There were also factors suggesting very serious discrimination against women," he said, adding that the investigation has not yet been able to determine how many women missed out on places at the university.
The probe has reportedly laid the blame for the university's discriminatory policies on Masahiko Usui, the 77-year-old former chairman, and Mamoru Suzuki, 69, the former president, with the investigators' report stating that they accepted money from the parents of applicants who were later granted places at the university.
Both Usui and Suzuki stepped down from their positions in July and have since been indicted on charges of bribery.
"It's a Japanese macho thing," Noriko Hama, a professor of economics at Kyoto's Doshisha University, told DW. "Men are apt to make expressions of affection or make an inappropriate move because they completely misunderstand the ethics of gender."
'Barbaric behavior'
"Alas, it is still widespread in Japan – but it is becoming more visible and talked about in society because their casualties are increasingly willing to speak out," Hama said. "I also think that much of society is catching on that this is barbaric behavior and that it needs to be squeezed out of society," she added.
"And I do believe that younger men have become more aware, are more sympathetic to these casualties and less likely to act in the same way." But it will take a few years before the "dinosaurs" from the older generations, who believe this sort of discrimination to be perfectly acceptable, are all gone, she admitted.
Mayako Shibata, who is doing a Master's law course in Tokyo, said she finds the fact that it is still older men who make so many of the decisions in Japanese society to be "deeply frustrating."
"I've heard their reasoning – that women leave work to have children and so on – and I suppose it makes complete sense to them, but it's infuriating that they do not understand how discriminatory and offensive that is," she told DW.
"If I ever found out that I had been discriminated against because of my gender, like the women who applied to the medical school, they would be receiving a lawsuit very quickly," she said.
"They need to understand that women can be as good – and even better – than men."
Read more: Japan's 'love hotels' - places where anything goes