It doesn't seem that long ago that Marco Reus was himself a Dortmund youngster.
Fresh off the back of three fine seasons at Borussia Mönchengladbach, Reus ended his debut season at Dortmund as a Champions League finalist and had enhanced his reputation as one of Europe's rising stars.
Fast forward six years and Reus is no longer a fledgling talent; his role under Lucien Favre is quite different. As Dortmund's young stars continue to demonstrate they are capable of sustaining their title challenge, Reus' role is not just a playing one.
More than a goal scorer
Throughout Saturday's mature and, at times, gritty 1-0 win in Wolfsburg, Reus could be seen offering advice to the likes of Jadon Sancho and Jacob Bruun Larsen. At one point, he even seemed to be explaining the art of defending to Manuel Akanji and telling Dan-Axel Zagadou, who was on a yellow card, to stay on his feet.
Reus is a different personality with the armband and isn't afraid to dig out his teammates when he has to, remonstrating with Roman Bürki in the 87th minute for not launching the ball clear when Wolfsburg were pushing for a late equalizer.
The fact that Reus scored the only goal of the game, an instinctive header in the 27th minute, seemed little more than incidental compared with his overall contribution as Favre's eyes and ears on the field. It wasn't just leading by example: blocking, heading, tackling, running. It was the fact that when Reus speaks, his teammates listen.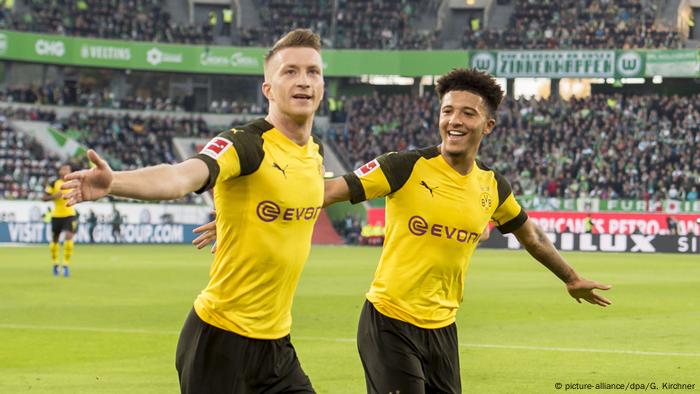 Marco Reus (left) and Jadon Sancho (right) during Dortmund's 1-0 win in Wolfsburg
'I look up to him like an idol'
One of those colleagues is Sancho. The young Englishman clearly has huge respect for Reus, and when Sancho led a promising counterattack, but chose the wrong passing option, Reus put an arm around the 18-year-old. The Londoner reacted a few minutes later by putting in the cross from which Reus, via a wayward Thomas Delaney header, scored. Sancho gave Reus a knowing look.
"I look up to Marco Reus because he's a very big player. I look up to him like an idol," Sancho told DW after the game. "It's good to have him on the pitch talking to me and giving me advice, because when he tells me things I listen. I just have to keep taking that advice and learning as a player."
If Sancho and several others at Dortmund reach their potential, they will be indebted to Reus. The 29-year-old has long established himself as one of the finest forwards in the world, but in his final season in his twenties, he is developing a new dimension to his game. That will be crucial if Dortmund are to sustain their title challenge beyond the autumn.