More than 50 world leaders have arrived in Paris on the second anniversary of the Paris climate agreement for a summit on how to promote green investments to combat global climate change.
High-profile public figures also attending the "One Planet" summit include Sean Penn, Arnold Schwarzenegger and Elon Musk.
French President Emmanuel Macron warned the delegates that the world was not reducing its carbon dioxide emissions fast enough.
"We are losing the battle" against climate change, Macron said. "We are not moving fast enough."
Germany's Environment Minister Barbara Hendricks said before the conference began that "it's about directing all investments worldwide towards climate-friendly options."
Read more: 'Make Our Planet Great Again' grants awarded ahead of climate summit
Pressuring companies to be greener
"We are all in the same canoe," said Fijian Prime Minister Frank Bainimarama, making the summit's opening speech Tuesday morning. "While the challenge is great, we must do everything in our power to meet it. We know it is the difference between life and death for millions of vulnerable people around the world."
Bainimarama urged banks and other investors to put money more quickly in companies that do not contribute to global warming. "There are trillions of dollars sitting in private investment institutions ... We must unlock that finance," he said.
The Climate Action 100+ group, an association of over 200 investment funds, pledged to pressure companies into reducing their greenhouse gas emissions and releasing climate-relevant financial information.
Read more: In Senegal and West Africa, villages fight climate change
EU green investment in Africa
The EU's Climate Commissioner, Miguel Arias Cañete, announced the bloc would invest €9 billion ($10.6 billion) in green projects in Africa through to 2020 as part of a broader investment program for the continent.
Valdis Dombrovskis, an EU Commission Vice President, also said the bloc may lower the amount of capital European banks are required to hold for sustainable investments. He added the Commission was also considering a labeling system to make it easier for people to identify "green" bonds.
The moves may be part of a package of measures the Commission is to present in March to ensure the EU meets its carbon reduction targets by 2030.
Read more: 'Scene that still haunts me': Video of starving polar bear goes viral
US to keep its climate promise?
French President Emmanuel Macron announced the "One Planet" summit shortly after US President Donald Trump — who was not invited to the summit — said he would withdraw the US from the 2015 Paris accord.
Speaking at Tuesday's summit, UN climate change envoy and former New York City Mayor Michael Bloomberg said Trump's decision had been a "rallying cry" for environmentalists and promised US cities, regions and companies would ensure the country met its carbon reduction goals.
Former California governor and actor Arnold Schwarzenegger agreed: "It doesn't matter that Donald Trump backed out of the Paris Agreement, because the private sector didn't drop out, the public sector didn't drop out, universities didn't drop out, no one dropped out."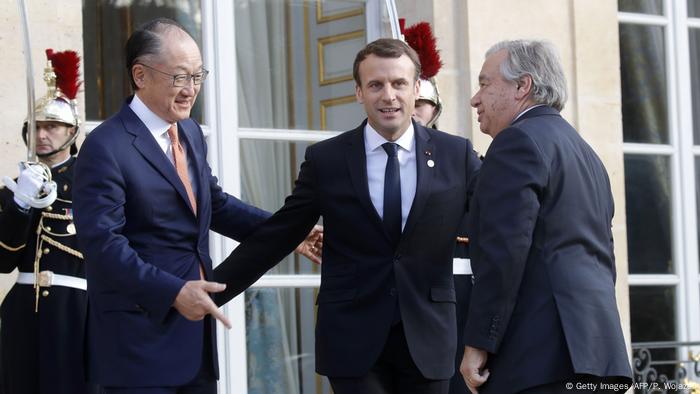 French President Emmanuel Macron welcomed world leaders along with World Bank President Jim Young Kim (left) and UN Secretary General Antonio Guterres (right)
Macron's ambition
French President Emmanuel Macron announced the "One Planet" summit shortly after US President Donald Trump said in June he would withdraw the US from the 2015 Paris accord. Trump, who has called climate change a "hoax," was not invited to the summit.
The 39-year-old president has positioned himself and his country as champions in the global fight against climate change since Trump's decision.
On the eve of the summit, Macron awarded the first 18 winners of France's "Make the Planet Great Again" climate research grants.
"What you are showing here this evening, with your commitment, with the projects that have been chosen ... is that we do not want climate change, and we can produce, create jobs, do things differently if we decide to," Macron said.
Read more: Climate change: Obama regrets lack of US leadership
bik,amp/jm/msh (AP, Reuters, dpa, AFP)