The French government did not discuss the possibility of declaring a state of emergency to prevent future riots at "yellow-vest" protests across the country, an Elysee Palace spokesman said on Sunday.
French President Emmanuel Macron held talks with several ministers after angry demonstrations a day earlier turned into the worst unrest in the capital, Paris, since 1968. Interior Minister Christophe Castaner has been asked to prepare security forces for future protests and Prime Minister Edouard Philippe to hold talks with political party leaders and protest representatives.
Officials said 133 people were injured, including 23 police officers, and 412 people were arrested in the third weekend of clashes in the capital.
Protests gatecrashed
Authorities believe the yellow vests movement, which began by campaigning against an increase in fuel tax, was infiltrated by masked, black-clad anarchist and far-right groups, who went on a rampage through the streets of Paris turning angry protests violent.
Read more: Violent 'yellow-vest' protests spread to Belgium
Hundreds of protesters ran amok, torching cars and buildings, looting shops, and fighting officers. Several streets and metro stations were shut and major avenues, including the Champs-Elysees and the Tuileries garden, were littered with piles of debris and burned cars.
At the famed Arc de Triomphe, authorities deployed tear gas and water cannon to fight back the protesters when they tried to break through police barriers.
The violence in Paris contrasted sharply with protests elsewhere in France on Saturday that were mostly peaceful.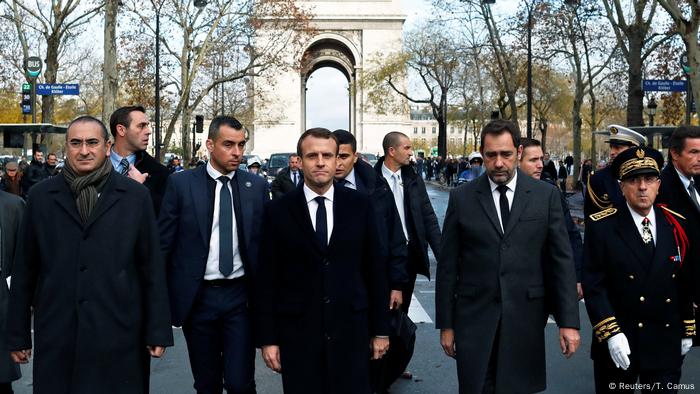 President Emmanuel Macron and officials walk close to L'Arc de Triomphe
Macron visits damaged sites
Upon his return from the G20 summit in Argentina on Sunday, Macron visited central Paris to witness for himself the damage caused by Saturday's riot.
The "yellow vests" erupted out of nowhere on November 17 and spread quickly via social media, with protesters blocking roads across France and impeding access to shopping malls, factories, and some fuel depots.
Initially a campaign against the rising fuel tax, the movement has since morphed into a broad opposition to Macron's government, elected in May 2017.
The 40-year-old pro-business centrist now faces a dilemma in how to respond, not least because they are a grassroots movement with no formal leaders and a wide range of demands.
Read more: Will the 'yellow vest' protests push France further to the right?
Macron has so far refused to roll back taxes on fuel, which he says are needed to fund the country's transition to a low-emission economy.
He insists the tax cuts he has delivered for businesses and high-earners are necessary to lower the country's chronic high unemployment.
Sunday sees more protests
Meanwhile overnight on Sunday, a motorist died after colliding with traffic which had built up due to a yellow vest protest in Arles, in southern France, a local prosecutor said,
"A van collided into a heavy truck at full force before being hit by another vehicle," Tarascon prosecutor Patrick Desjardins told the Agence France-Presse news agency, adding that the accident was "directly related" to a roadblock by protesters which caused a 10 kilometer (6 mile) traffic jam.
A motorway pay booth was set on fire by arsonists near the southern city of Narbonne on Sunday, a judicial source told AFP.
Elsewhere, the main north-south motorway in eastern France, the A6, was blocked by protesters near the city of Lyon on Sunday morning, its operator said.
mm/jlw (AFP, AP, dpa, Reuters)
Each evening at 1830 UTC, DW's editors send out a selection of the day's hard news and quality feature journalism. You can sign up to receive it directly here.