Protesters in Belgium on Friday destroyed several police vehicles and threw rocks at the office of the country's prime minister, Charles Michel, calling for his resignation over high taxes and food prices, and low wages and pensions.
The protesters wore yellow high-visibility vests — which have become a symbol of France's rebellion against diesel tax hikes and the high cost of living — as they blocked streets in Brussels, often with pieces of scaffolding, severely impeding traffic.
"Michel, resign!" people chanted. Michel, a center-right ally of French President Emmanuel Macron, voiced sympathy, but said: "Money doesn't fall from the sky."

Belgium's Interior Minister Jan Jambon slammed what he described as "incomprehensible violence toward the police, which every day does its best to protect citizens and society. Outrageous."
Tear gas preparations
Anti-riot police responded with water cannons after rioters threw pool balls, rocks and paving stones at barricades in downtown Brussels.
More than 300 people were involved in the protests, according to Brussels city police spokeswoman Ilse Van De Keere. About 60 were arrested for public order offenses.
Some were detained for having gas, ski and diving masks, which, according to police, suggested protesters were expecting tear gas to be deployed. Many were carrying dangerous items, such as razor blades, tire levers and pepper spray, Van De Keere said.
Election concerns
Prime Minister Charles Michel said he was willing to talk with some of the protest leaders, but it was not immediately clear whether any specific arrangements had been made. Belgian citizens will vote in a general election in May.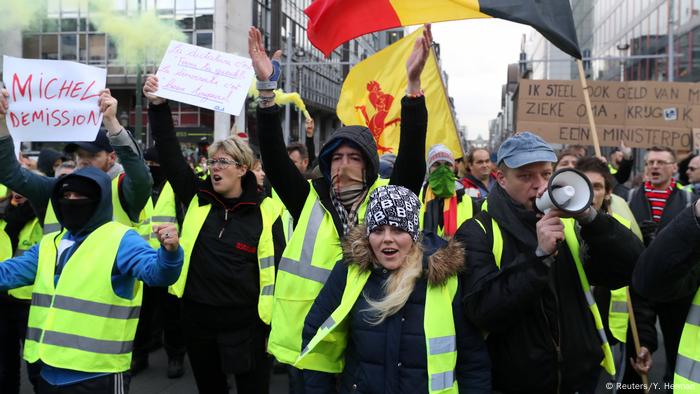 Protesters in Brussels wearing holding placards calling for the resignation of Belgian Prime Minister Charles Michel
kw/msh (AFP, dpa, Reuters)
Each evening at 1830 UTC, DW's editors send out a selection of the day's hard news and quality feature journalism. You can sign up to receive it directly here.