Prime Minister Zoran Zaev said on Tuesday that if dignity was preserved in a name change, Macedonian citizens would support it in a referendum.
Speaking after a Western Balkans summit held in London, Zaev said: "The suggestions are Republic of North Macedonia, Republic of Upper Macedonia, Republic of Vardar Macedonia and Republic of Macedonia (Skopje)."
The geographical qualifiers appear designed to ensure there is clear distinction between the Greek region of Macedonia and its landlocked Balkan neighbor.
The Macedonian premier was asked if he thought Greece would be happy with one of the options and he replied: "Yes... They have more preferred options and some not so preferred options (in terms of the name)."
However, on Tuesday, despite snow and freezing temperatures, thousands of people in the Macedonian capital Skopje took to the streets to protest a possible change of their country's name. A network of civic associations organized the rally as people chanted "Long live Macedonia!"
Constitutional change
Zaev questioned whether there was a need to change Macedonia's constitution, as Greece had asked for in recent months. The question remains whether there was "a real need," he said. Greece has suggested some articles could imply territorial claims over its northern region of Macedonia.
Read more: Macedonia and Greece: Locked in naming dispute
EU and NATO applications
Skopje has long wanted to join NATO and the European Union. On Sunday, EU Commission chief Jean-Claude Juncker met with Zaev and President Gjorge Ivanov. He praised the two leaders for the pace of reform in Macedonia and urged speedy resolution of the name dispute with Greece. Juncker said once the 25-year-long dispute was resolved, Macedonia would be invited to EU accession talks "within months."
As a member of both the EU and NATO, Greece has the right of veto over new admissions.
Macedonia has hopes to resolve the issue before an EU meeting in June and a Nato summit in July.
To satisfy Greece, the United Nations among other international organizations officially recognize Macedonia as the Former Yugoslav Republic of Macedonia.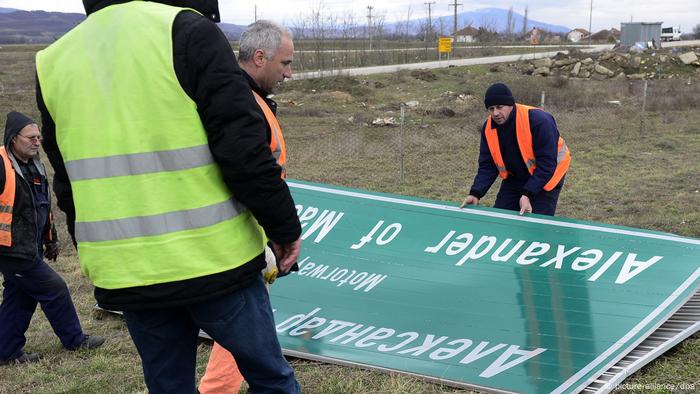 The name of the road towards Greece has been changed from 'Alexander of Macedonia' to 'Road of Friendship'
Macedonia is changing the name of its main airport, Skopje Alexander the Great Airport, to Skopje International Airport. The goodwill gesture towards Greece is part of the negotiations which have been stepped up this year to end the dispute with Greece.
During his visit, Juncker said he was "enchanted (to find) that something has changed at the airport."
jm/aw (Reuters, AFP) Each evening at 1830 UTC, DW's editors send out a selection of the day's hard news and quality feature journalism. You can sign up to receive it directly here.