Tens of thousands of Greeks converged on Athens on Sunday to protest the Greek government's potential compromise in a long-standing dispute with northern neighbor Macedonia over its name, which is currently "The Former Yugoslav Republic of Macedonia (FYROM)," its official title at the United Nations due to Greek objections.
Police put turnout on Syntagma Square at 140,000. Organizers claimed 1.5 million Greek protesters were present.
Police used tear gas to keep apart nearby groups of suspected far-rightists from left-wing and anarchist protesters who bore banners for Balkan unity.
Read more: Macedonia and Greece: Locked in naming dispute
Resolution is needed before Skopje - as many Greeks refer to it - can join NATO or the EU.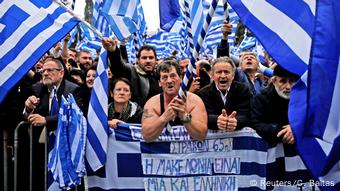 Stay Greek, insist protestors in Athens
"The Former Yugoslav Republic of Macedonia (FYROM)," remains its official title at the United Nations because of Greek objections.
Proposals prompt protests
Long-term UN mediator Matthew Nimetz has proposed several alternative names in Macedonian, with the addition of "new" or "north", including "Republika Nova Makedonija."
His trips to both countries in recent days and suggested modifiers have however prompted protests in both countries.
Sunday's protest in Athens followed a large rally in Thessaloniki, the capital of Greece's Macedonia province, a fortnight ago when thousands turned out to demonstrate against the Greek government's rumored compromise.
Passions high
The naming dispute arouses strong passions among Greeks who consider Macedonia, the ancient kingdom ruled by Alexander the Great, to be an integral part of their homeland. They claim the exclusive right to the name Macedonia.
"Macedonia is Greek and only Greek. They are trying to steal history. We all have to fight and let the world know," said Allia Sarellis, a member of the Greek diaspora who flew in from the United States.
Read more: Breakthrough over 'Macedonia' name dispute finally in sight?
What's in a name?
The dispute broke out after Macedonia gained independence from Yugoslavia in 1991. Greece said its neighbor's name implied potential claims over its own province of Macedonia.
Skopje countered the claim, saying the country has been known as Macedonia for a long time.
The row has prompted Greece, a NATO member, to block Macedonia's accession to the alliance since 2008.
The left-led governments in both countries agreed to step up negotiations involving Nemitz this year to resolve the dispute.
Read more: A thaw in relations? Macedonian prime minister sees in the New Year in Greece
Earlier this week, Greek Foreign Minister Nikos Kotzias, who is leading figure at the talks, received a threatening letter that authorities believe was linked to the minister's attempts to resolve the long-standing dispute.
ipj, ap/ng (AP, Reuters, AFP, dpa)