More than 100,000 nationalist protesters crowded along Thessaloniki's waterfront on Sunday to demand that neighboring country Macedonia change its name.
Athens argues that the use of the term "Macedonia" suggests the former Yugoslav state has territorial claims to a northern Greek region of the same name.
Read more: Breakthrough over 'Macedonia' name dispute finally in sight?
The issue has been a source of conflict between the two countries ever since Macedonia's independence from Yugoslavia in 1991. The Balkan nation was admitted to the United Nations in 1993 as the Former Yugoslav Republic of Macedonia (FYROM).
Read more: Aspiring NATO member Macedonia angles for membership invite in 2018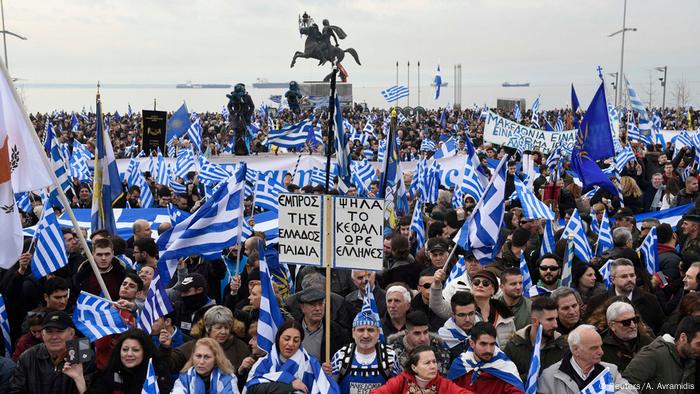 Thousands of people gather around a statue of Alexander the Great on Thessaloniki's waterfront
National pride
Macedonian Prime Minister Zoran Zaev, who took power last May, has pledged to resolve the dispute and accelerate the country's bid to join the European Union and NATO — efforts which have thus far been blocked by Greece.
Read more: Macedonian prime minister sees in the New Year in Greece
The region of Macedonia, of which Thessaloniki is the capital, was the center of Alexander the Great's ancient kingdom and is a source of national pride for many Greeks.
Hardline clerics and far-right leaders, including members of the neo-Nazi Golden Dawn party, called for Sunday's rally after Athens and Skopje agreed this month to work towards a compromise to end the 25-year name dispute.
Organizers claimed that 400,000 people took part in the march, while police put attendance at around 100,000.
"We demand that the term Macedonia isn't included in the name which they will agree on. This is not negotiable," said Leonardou, a 59-year-old protester from Thessaloniki.
More rallies are planned in northern Greece this week.
Read more: The Balkans: From Yugoslav wars to an ever-tense peace
Renewed talks
Greece and the Republic of Macedonia last week returned to the United Nations in a bid to put the name row to bed. UN negotiator Matthew Nimetz said that although the talks had yielded no concrete results so far, he added that he was "very hopeful" a solution was within reach.
Read more: Macedonia: 25 years of independence, 25 years of stagnation
Greek Prime Minister Alexis Tsipras, who is expected to meet with his Macedonian counterpart in Davos next week, said in an interview published on Sunday that if there is an opportunity for a solution, "it would be a national stupidity not to make good use of it."
However, he told Ethnos newspaper that he could understand "the concerns and sensitivities" of Greeks in the region of Macedonia.
If a deal is reached at the UN talks, it will be put before Greek parliament for approval.
nm/rc (Reuters, AFP, AP)