Hundreds of fans queued outside German footballer Lukas Podolski's new kebab restaurant in Cologne's trendy Chlodwigplatz on Saturday for the grand opening and a chance to see the city's favorite son.
The restaurant, Mangal Döner, is the former Germany, Arsenal and Bayern Munich star's latest business venture in the city he still calls home.
Read more: German footballer Lukas Podolski threatens to sue Breitbart over human trafficker photo
Fans got the chance to meet their proclaimed "Prinz Poldi" at his new restaurant, where he posed for photos next to the rotating spit of meat and signed autographs.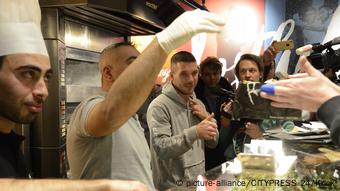 Fans got the chance to meet and greet 'Prinz Poldi' at the opening of Mangal Döner
Asked how he came up with the idea to open a kebab restaurant, Podolski said he wasn't entirely sure: "Ideas just come — I don't even really have a business plan right now."
Nevertheless, the footballer's spokesman, Sebastian Lange, said "the euphoria is very, very great, contrary to expectations, and Podolski is very happy with the launch." The soccer star plans to run the restaurant with two co-owners.
Lange added that Podolski acquired the taste for Turkish cuisine during his two-year spell with Galatasaray in Istanbul.
Podolski currently plays for Japanese side Vissel Kobe, but is back in Cologne receiving treatment for a thigh injury.
Entrepreneur
The winger, who speaks with a thick Cologne accent, already owns a clothing boutique called Street Kicker and an ice cream parlor named Ice Cream United in his home city. He also organizes and sometimes attends a football camp for young children in Cologne every summer.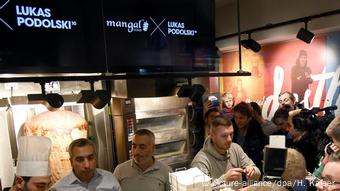 Podolski said he doesn't really have a business plan; judging by the fanfare, he might not need one
Pressed by the local Kölner Stadt-Anzeiger newspaper over whether he, as a professional athlete, was setting a bad example by running ice cream and kebab businesses, Podolski responded that he had no concerns: "As an athlete, you'll burn an ice cream for dessert or a kebab in around 10 minutes."
He added: "Opening a five-star restaurant isn't my style — I'm not the type that wears a suit."
'I believe in miracles'
Podolski also talked up the chances that his beloved hometown club FC Cologne, with whom he enjoyed two successful spells as a player, could avoid relegation and remain in the Bundesliga next season.
Read more: Commentary: Podolski, much more than a mere mascot
Cologne currently finds itself bottom of the league, with just six points and one win after 17 games — the second-worst ever record at this stage of a Bundesliga season.
"I believe in miracles," Podolski said. "It's too early to talk about the second division. I'm calling on all the fans and the city to support the team as long as it's possible [to stay in the Bundesliga].
dm/msh (SID, dpa, AP)