In the Philippines, a decades-long strategic alliance with the United States is rapidly deteriorating, the country is pursuing closer relations with its maritime adversary China and an ongoing vigilante drug war is claiming thousands of lives. At the center of these upheavals is Philippine President Rodrigo Duterte, the aggressive and pugnacious former mayor of Davao City who was elected president in June 2016.
With nicknames like "The Punisher" and "Duterte Harry," Duterte was elected president by a wide-margin on promises that he would be tough on crime. And despite the international controversy his actions earn, his favorability numbers at home are continually high. Is this the key to understanding what motivates Duterte? And furthermore, what other issues are below the surface that may explain his erratic and unconventional behavior?
Dr. Cristina Montiel, a professor of psychology in Manila at Ateneo de Manila University told DW that part of Duterte's appeal was that he knows the language and the frustrations of the very poor. "He is a brilliant politician," she said. "Duterte's extreme posturing effectively uses images and language of the weak and marginalized to produce social power."
More than 3,000 alleged drug dealers have been killed since June
When looking at how he achieves this, Montiel said that for Duterte, words are actions. "His aggressive rhetoric is his action," she said. "He uses speech acts to get things done - to foment mass threats, fear, and social obedience."
And for Duterte, rhetoric does not exist in a vacuum. "His rhetoric makes violence, like in the anti-drug campaign, and other political conflicts, morally acceptable -even admirable- rather than morally wrong," said Montiel.
The source of all the bluster?
Beyond his political rhetoric, Duterte is well known for calling both US President Barack Obama and Pope Francis a "son of a whore." He has also made public jokes about rape and said he would cannibalize his enemies. As recently as this week he called the US "monkeys" and "American fools" for backing off of an arms sale. Perhaps, this was a result of change in behavior after he said that "god told me to stop swearing."
While these statements might seem difficult to take seriously, a report that surfaced in April 2016 indicates that Duterte may not know the difference. According to the report, he is affected by a psychiatric disorder called Antisocial Narcissistic Personality Disorder.
The report was conducted in 1998 by Dr. Natividad Dayan, the former president of the International Council of Psychologists. It was ordered during annulment proceedings from Duterte's former wife. It outlines Duterte's symptoms, many of which he demonstrates regularly in public.
These include being a "highly impulsive individual who has difficulty controlling his urges and emotions" combined with an inability to "reflect on the consequences of his actions." Going further, the report indicates that Duterte possesses "gross indifference, insensitivity and self-centeredness" along with a "grandiose sense of self-entitlement." Montiel is also familiar with the report from Dayan.
"If you want to know about Duterte's psychological diagnostics, read the report from Dr. Dayan," she said. "She is a solid psychologist, with unquestionable personal integrity."
The importance of understanding leaders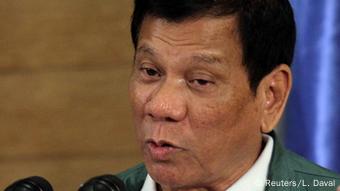 Duterte's words are often brash and aggressive
Unpredictable leaders such as Duterte make it difficult to form effective policy responses. David G. Winter, Professor Emeritus of Psychology at the University of Michigan, is a leading researcher of personality profiles of political leaders. "The intrusion of a leader's personal appetites, needs, aspirations, fears, and obsessions shape highly consequential public actions," he said. "Sometimes they are self-defeating or violently aggressive and sometimes brave and heroic."
And while psychological profiles of leaders can help with decision making, the context of the societies they lead is just as important. "Psychological profiles of leaders are only half of the picture," said Montiel. "The key is to understand if there is a fit between the leader's psychological needs and orientations, and societal psychology."
"Political outcomes are shaped and channeled by personalities of leaders," said Winter. "These are individually patterned integrations of emotional reactions, judgments, goal seeking, and choices."
Montiel added that there is currently a lack of psychological models for analyzing leaders in new and emerging democracies.
Profiling the past and the present
One of the first uses of strategic personality profiles was an analysis of the personality of Adolf Hitler commissioned by the allies during World War II and written by Dr. Harry A. Murray, the pre-war director of the Harvard Psychological Clinic. Even analyzing at a distance, Murray was able to discern in the 246-page report that Hitler had a "pathological aggression" combined with insecurity and impotence. And he accurately predicted that Hitler would likely commit suicide.
More contemporary, and less dire, assessments of leaders include a 2011 profile of Barack Obama from Professor Winter. The study concluded that Obama's "calm demeanor, intelligence and high integrative complexity" combined with his "race and the explicit and implicit prejudice of white Americans" led to a profile that is a dichotomy of "Philosopher King or Polarizing Politician".
Regarding Duterte, Winter said, "I have no expertise beyond the impression that he is a very sinister and dangerous person."
While Duterte and his erratic policies have not been around long enough to detail the long-term consequences, what we can tell is that up until this point, whether it is promising a drug war or straining alliances, he has indeed meant what he says.