In the summer of 2012, Anastasia Giamali was watching a live TV talk show in Athens that featured two left-wing female politicians, Liana Kanelli of the Communist Party and Rena Dourou of Syriza, and Ilias Kasidiaris, spokesman of Golden Dawn, the Greek neo-Nazi party.
Not long into the show, Kasidiaris, enraged at comments made by the two women, did the unthinkable - he slapped Kanelli, old enough to be his mother, three times in the face. He also threw a glass of water in Dourou's face.
Giamali, a young journalist and municipal councilor elected on the Syriza ticket, was shocked. "I remember calling Rena [Dourou] and saying, 'He [Kasidiaris] is going to get punished for this,'" she says. "But Rena told me, 'Just wait. You cannot imagine what a positive effect this is going to have on Golden Dawn."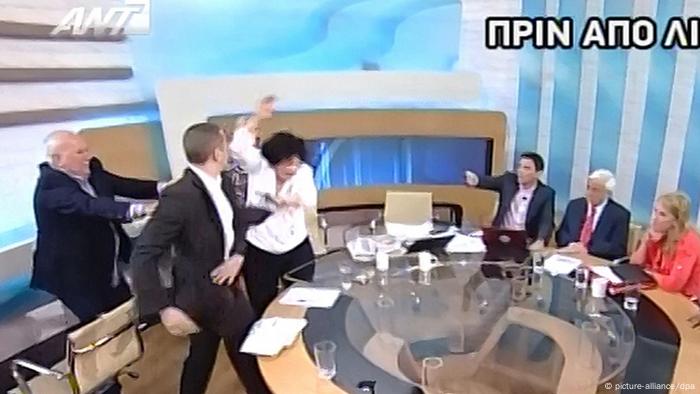 The televised assault on two female politicians was a boon to the neo-Nazi Golden Dawn party
Dourou, who is now the prefect of Attica, the highest elected position held by a woman in Greece, was right. Polls showed that support for Golden Dawn went up. "Many Greeks saw it as positive, that this macho guy with big muscles put two big-mouthed women in their place," Giamali says. "That alone shows how much women have to overcome in Greece today."
#NoDemocracyWithoutWomen
That's especially the case in politics, where women have been traditionally underrepresented. "Greek society exhibits one of the lowest levels of women in positions of power and socio-economic decision-making in the EU," wrote Maro Pantelidou-Maloutas, a political science professor at the University of Athens and the author of "The Gender of Democracy: Citizenship and Gendered Subjectivity."
The leftist party now governing Greece, Syriza, has traditionally had more female members than other parties, especially the conservative New Democracy party that was defeated in recent parliamentary elections. But that didn't translate into strong female representation on the cabinet of a Syriza-led government of Prime Minister Alexis Tsipras. Only six of 40 cabinet members - and no senior cabinet members - are women.
Spanish women's rights activist Amparo Rubiales blasted the male-dominated Greek cabinet in the Spanish edition of The Huffington Post. "You cannot govern without women," she wrote, pointing out that Spaniards are sensitive about the issue of gender-equality in politics. Soon after her post, the hashtag #SinMujeresnohayDemocracia (No Democracy without Women) began trending in Spain.
Culture of patriarchy
Women make up an average of 20 percent of parliamentary seats globally, about the same as the average in the Greek parliament.
Greece has never had a female prime minister, but it has some high-profile female cabinet members, including Melina Mercouri, the award-winning actress who became culture minister in the socialist PASOK government of the 1980s, and Dora Bakoyannis, the first woman elected mayor of Athens, who later served as foreign minister from 2006-2009 in the center-right New Democracy government.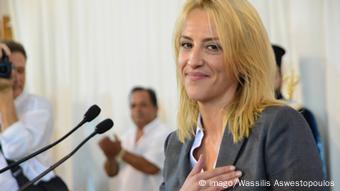 Dourou holds the highest-elected office of any woman in Greece
"There are moments when people … always remember that you are a woman, or try to show you that you are a woman, and have a different opinion about women," Bakoyannis told a Turkish journalist while she was foreign minister. "And there are still people who say that women should best be left at home and cook for the children."
There's a deeply embedded culture of patriarchy in Greece that extends even to the progressive left, says Evi Papathanassiou, a teacher and member of Syriza. "Yes, I would have liked to see more women in our new government's cabinet. That's a fair criticism," she says. "But you have to look at Greek culture as a whole, and understand that there are people here who still believe that men are better decision-makers, better leaders. We are trying to fight this patriarchal culture in the left, but change is slow. It takes time."
And Papanthassiou says she expects the women in the cabinet, like Tasia Christodoulopoulou, a lawyer and longtime human rights activist who was appointed alternate interior minister in charge of human rights, to wield great influence. "Tasia is a longtime hero of mine," Papathanasiou says. "Women like her - she has such knowledge, conviction and strength - blazed trails for women in the left, which, like other parts of Greek society was also male-dominated. She will be listened to in this cabinet."
Eyes on new First Lady
Veatriki Archimandriti, a public transportation worker, said she has faith that the new prime minister, Tsipras, will elevate the status of women in Greece. "Look, for example, at his partner, who is a dynamic and very well-educated woman with a flourishing career," she said.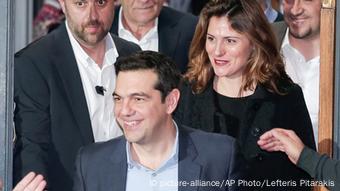 Betty Baziana has a successful career herself
Tsipras' longtime partner, Peristera "Betty" Baziana, with whom he has two sons, is a well-respected researcher with a doctorate in computer and electrical engineering.
Giamali, the journalist and local politician, said she's been disheartened, though not altogether surprised, that Greek and international media have focused on the new Greek First Lady's low-key, no-make-up style instead of her professional accomplishments. "The media would never do that to a man in this position," she says. "It's unacceptable."
And she points out that Greek women in politics, such as Rena Dourou, the Attica prefect, and Zoe Konstantopoulou, a human rights lawyer whom Tsipras has appointed speaker of the parliament, have to fight much harder than male politicians to be heard and respected. "You have to strip away all your warm feminine qualities and keep only your toughness," she said. "You have to be tough like a man, because if you act anything like a woman, if you appear caring and nurturing, you are seen as weak."
"Then, of course," she says, shrugging and laughing, "if you act like a man, you are also criticized for that, for being rude and masculine. It's a problem for women all over the world. But we are fighting, and we are slowly winning."