Boris Nemtsov square appeared in a Google Maps search for the first time on Friday, shortly after the green space with a little lake in front of the Russian Embassy in the Lithuanian capital had been renamed in honor of the political activist murdered in Moscow.
President Vladimir Putin's most prominent opponent at the time, Nemtsov was shot dead near the Kremlin in February 2015. It was the most high-profile political murder in Russia's recent history. While two men are serving prison sentences, none of the instigators or organizers of the crime have been identified.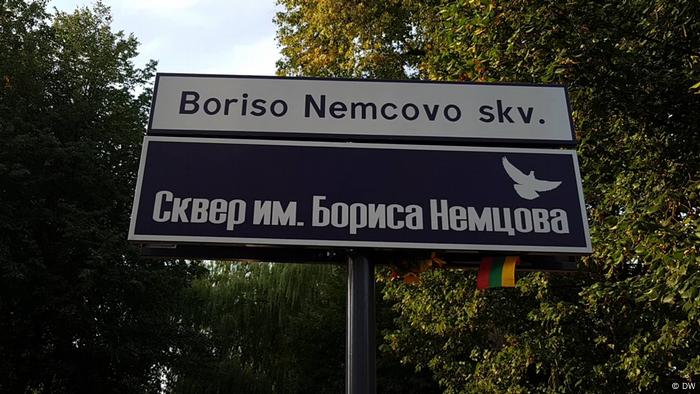 The tree-filled park by the Russian embassy in Vilnius has become Boris Nemtsov square
Speaking at the ceremony, Nemtsov's daughter Zhanna Nemtsova thanked Lithuanian authorities for renaming the square.
Vilnius Mayor Remigijus Simasius said naming the square was "a sign of honor to all democrats of Russia" and half a million citizens of Moscow who took to the streets of the Russian capital to support Lithuania in its fight for independence in January 1991.
Lithuanian Foreign Minister Linas Linkevicius called it a "truly meaningful gesture."
Former government minister, regional governor and four-term member of parliament, Nemtsov was a regional lawmaker at the time of his death.
OSCE calls for investigation
At its parliamentary assembly in Berlin in July, the Organization for Security and Cooperation in Europe (OSCE), of which Russia is a member, called on Russian authorities to "undertake a new, full and thorough investigation into the February 2015 assassination of Boris Nemtsov... including the vigorous prosecution of those who ordered or facilitated the crime, and to co-operate with the OSCE Parliamentary Assembly and the Parliamentary Assembly of the Council of Europe in regard to their ongoing interest in this case."
However, there has been no progress in bringing the organizers of the murder to justice.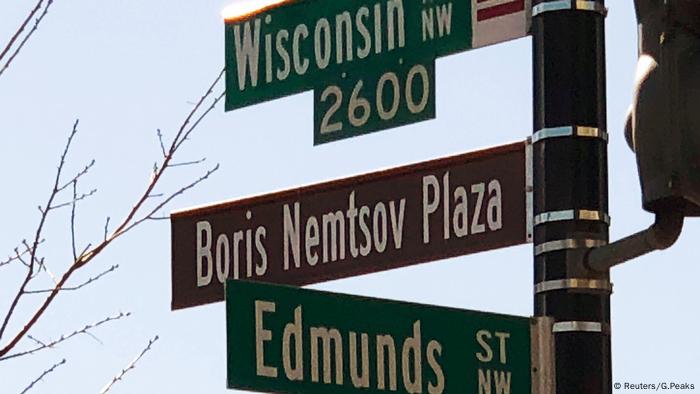 Washington changed the name of a square by the Russian Embassy to Boris Nemtsov Plaza in February
Russia's ambassador in Lithuania Alexander Udaltsov criticized the naming of the square saying it was "not right, to put it mildly." He said Vilnius was "aping" Washington which opened Nemtsov Plaza in front of the Russian Embassy in February this year.
DW's Katsiaryna Kryzhanouskaya and Irina Filatova contributed to this report.
jm/msh
Each evening at 1830 UTC, DW's editors send out a selection of the day's hard news and quality feature journalism. You can sign up to receive it directly here.